A great natural solution for providing intense dark colour where strong roasted flavours are not desirable. Widely used for colouring concentrated flavour enhancers: stocks, seasoning mixes, pastes and marinades. Also useful in rich dark soups and table sauces: BBQ style and ketchups, flavour enhancement products (stock cubes and pots), soups, cooking sauces and condiments.
This product complies with the EU regulation No. 828/2014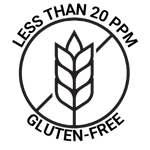 As an alternative to: Caramel colours - Class III (E150c) & IV (E150d).
Benefits: Clean label, Very low flavour impact.