This month PureMalt have got hands on in their support of Our Community Kitchen. As the garden project gathers momentum PureMalt team members Henry and Simon volunteered to pick up tools to support with the construction of the garden project. With their assistance progress had been made on the construction of a planter, an archway and the base structure for a second larger planter.
Our Community Kitchen has progressed quickly with this project, since construction began in December 2020 the project nears its close now as we approach the end of February. The project has been made possible by the support and considerable donations form a local community member John Thompson and a number of local businesses: Lemac, Had-Fab, Haddington Community Development Trust, Rotary, Torness Nuclear Power Station, Climate Change Fund, Joe Forte Sports, Haddington Wine and Whiskies, ESPC, Walk with Scott Foundation and PureMalt have all contributed in their own ways in order to provide the community with this initiative. As we report on the activities of the OCK garden all planters are now built and construction of tables, benches and the foundations for the kitchen are taking place. The tables will cater to seat 30 people, whilst the kitchen will provide an area for cooking demonstrations to take place as well as a hub of activity within the community. The charity have plans to develop this garden further through the installation of greenhouses in this area.
Images below: (left to right: multiple planters finished, tables built, table close up)
OCK hope to invite the school pupils to join in finishing off the project by encouraging them to pick up buckets and fill their planters with soil for the growing project ahead.
Whilst the work on the garden is in progress the charity have continued their mission of tackling isolation by distributing hot meals to isolated members of the community, continuing their kindness calls to open communication with their members as well as carrying out window visits from their team. OCK have encouraged their members to communicate with each other during the lockdown this has resulted in poems written by the charities' members being distributed and one member has taken to knitting knee blankets to send to other members of their community.
A 50/50 club has also been launched by OCK, this fundraising activity will raise money for the charity through monthly entries to win the prize-pot which will be shared 50% to the charity and 50% to the winner.
DECEMBER 2020/JANUARY 2021 UPDATE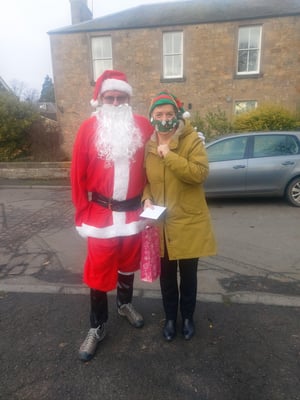 During December, Our Community Kitchen continued their mission of tackling isolation in the local area by delivering hot meals to isolated members of the local community. On Christmas day, assisted by Santa Claus, festive volunteers committed to preparing and delivering hot meals and seasonal goodies from the local bowling club.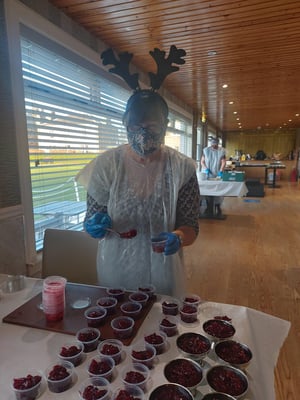 More information on this from OCK's feature in the East Lothian Courier available here:
https://www.eastlothiancourier.com/news/18998819.community-kitchen-volunteers-delivered-christmas-dinners-gifts/
As the new year commenced Our Community Kitchen have shared with us exciting news of their latest project. OCK are working on developing a community garden in partnership with Knox Academy School and Meadowpark School Haddington.
OCK hope the garden project supports their mission of tackling isolation. It is hoped this will be achieved through planting, growing and cooking homegrown produce from the garden. This plan will involve not only the members of OCK but also the pupils from the school and the wider community, providing a platform for developing friendships and connections.
OCK hopes to plant and grow a selection of fruits, vegetables and herbs. A greenhouse, vertical gardens, an outdoor kitchen and polytunnels are all planned for the garden. This will provide suitable growing conditions for a broad range of produce. The outdoor kitchen will allow cooking demonstrations to take place, encouraging participation from the community.
This garden will function as a hub for the community, hosting a plethora of activities scheduled to take place throughout the year.
There has been a strong focus on this project recently, due to its outdoor nature, allowing work to continue safely within the garden during the covid-19 restrictions. OCK are very grateful for the support they have received from the community, local organisations and local businesses.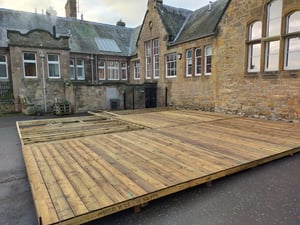 This photograph shows the progress on the project so far, OCK estimate they are less than 1 week away from the completion of the decking.
The exciting next stage is for the planters to be built, with support from some members of Team PureMalt.
OCK continue their regular activities of preparing, cooking and delivering hot meals across the community and making their kindness calls to keep in touch with their members over the telephone. They have also received positive feedback mentioning how friendly the delivery drivers have been in providing this service, with a simple smile making a significant improvement to someone's day.
OCK hope that as covid-19 restrictions begin to ease they will be able to welcome their members back to the bowling club, gather round the table for a chat and a hot meal.
NOVEMBER 2020 UPDATE
For the duration of November, the charity has been able to provide over 100 meals per week to it's participants on a Tuesday and Thursday each week. The charity continues their kindness calls for their isolated members to ease the effects of isolation with conversation and companionship.
'Our Community Kitchen' eagerly await news of funding to begin work on their community garden. It is planned that stage 1 of the garden project will commence before Christmas, stage 1 will involve the setup of the groundwork and construction for the garden. OCK is encouraging people to volunteer to get involved in their garden project by volunteering their time in support of the setup of the garden.
Whilst East Lothian moves into tier 2 'Our Community Kitchen' remain unable to operate at the capacity they did pre-Covid-19. 'OCK' can set up 5 socially distanced tables 1 day a week. This reduced service is expected to continue whilst the risk of covid-19 is still strong. It is expected to take at least until summer 2021 for 'OCK' to be able to return to normality. The return to meeting in the local bowling club for a warm meal and company is fundamentally important to the lives of the many members of the community that 'OCK' serve. During the spring months of 2021, OCK will open two days per week to provide a socially distanced space for people to reconnect and to establish friendships over food. This will be a leade into coming around the table once again.
'Our Community Kitchen' launched its reverse advent calendar initiative. The reverse advent calendar requests the generosity of the public to donate a single food item on each day of advent. These items will then be sent to Knox Academy School, who add to the donation and will then be sent to the food bank with some of the food being sent to OCK participants at Christmas time.
During the festive period, OCK will open on Christmas day to provide hot Christmas meals delivered to their participants at home. People will be able to enjoy a hot meal, a small bottle of wine (generously donated by Shiva and Shanthi Kumar at Haddington Wines and Whiskies), a gift bag containing small Christmas gifts of; chocolate truffles, apple chutney, Christmas pudding, friendship bracelets made by local brownies and homemade Christmas cards (made by the local primary school children). Over the course of the 7th and 9th of December, the OCK volunteers will dedicate time to decorating the gift bags that their members will receive and to make baubles. Participants of OCK will receive all the afore mentioned Christmas goodies delivered by Santa Claus.
Participants of OCK who already face the issue of isolation continue to face extreme circumstances caused by the COVID-19 pandemic. This increased difficulty makes isolation an important issue to tackle and the value of the work carried out by OCK can truly be seen.
OCTOBER 2020 UPDATE
'Our Community Kitchen' receives Scottish Parliament recognition through motion raised by Iain Gray MSP - "I was delighted to hear about the national recognition for the unique partnership developed between Our Community Kitchen and Haddington Bowling Club. The partnership had already been making a positive impact before the pandemic but fulfilled a really important role during lockdown. Those involved have achieved a huge amount in a relatively short period of time and I felt their contribution and the recognition they have rightfully received was worthy of being acknowledged by Holyrood."
Determined by their mission to tackle loneliness in the area and united over their passion for food. Our Community Kitchen set plans for growth within the community through planting a community garden. Partnering with local schools Knox Academy and Meadowpark (

Meadowpark Knox Academy is for children and young people of secondary school age from East Lothian who have needs primarily associated with Autism Spectrum Disorder). The partnership hopes to develop some of the school's green space into decking, planters and an outdoor kitchen - hosting guest chef demonstrations. Using the chef's creativity and support to build a functional garden in which to grow produce for their gastronomical activities.

Our Community Kitchen continues their lockdown activities of:

Cooking and distributing over 100 hot meals 2 days a week for the communities most isolated members

Kindness calls twice a week to provide isolated members of the community with friendship, support and discussion, aiming to tackle the issue of loneliness (which becomes increasingly difficult during the winter months, this difficulty is inflated by the difficulties the pandemic brings)

OCK have initiated socially distanced kindness walks, a development on from the kindness calls where isolated members of the community are given the chance to get outdoors safely and enjoy company provided by OCK.
AUGUST 2020
Our Community Kitchen has shared their latest video with us, watch here to learn more about what they are doing, why they are doing it and how they have supported the community during Covid-19.

HRFC return to the pitch in line with the SRU guidelines issued on the 20th of August here

Haddington Athletic return to training