OUR COMMUNITY NEWS FEED
STAY UP TO DATE WITH OUR INITIATIVES HERE





NOVEMBER 2021 Our Community Kitchen UPDATE
Unfortunately, OCK will have to say goodbye to Heidi, a very special member of their team. Heidi joined the team just before the pandemic started and has worked hard cooking the meals for the OCK participants and people in our local community over the last couple of years. This puts OCK in the position of recruiting for Heidi's position, interviewing chefs and offering them the opportunity to demonstrate the quality of their food by preparing and cooking a meal for everyone around the table and OCK volunteers.

OCK's 900 kindness cards are currently being distributed among local schools, encouraging the kids to write positive messages. These Christmas themed cards will be sent out to care-homes, day centres, hospitals and local GP's to spread joy.

OCK recently collaborated with local festival organisers Haddstock by running a community café to support their very busy Christmas Fayre on 27th November. OCK Volunteers, staff team and local supporters made delicious home baking to sell and they raised £527.20, which will help massively towards their work.

The charity devised plans for 2022. They will look to offer an afternoon tea service to the local community in order to raise funds for Our Community Kitchen.

Looking ahead to Christmas Our Community Kitchen plan to open Christmas day for those who would otherwise be alone at Christmas. OCK will provide Christmas food for 35 members. The menu offers an option of 2 starters, 2 mains and 2 desserts. Singing carols, listening to Christmas music, enjoying their meal and maybe dancing are all planned for Christmas day.

Knightfever dance school have very kindly offered to contribute to the hamper gifts for the participants joining around the table along with Haddington fine wines, who will be gifting wine to members to go with their lunch. Volunteers will also be donating Christmas cakes, hand made chocolates, puddings and mince pies

Wee red upcycles will be facilitating a session with the volunteers from OCK to create table decorations through learning the craft of upcycling.

Frozen meals will also be delivered this Christmas to those unable to join around the table.

OCK await 2022 to begin their growing season again in the garden, encouraging individuals to learn how to grow and cook outside with the produce This is expected to be beginning towards the end of March 2022.
OCTOBER 2021 Our Community Kitchen UPDATE
Whilst working on writing reports Elaine (OCK's Founder) has had time to reflect on the charity's performance over the last year. She noticed that whilst the disruption of the covid-19 pandemic has changed the way OCK has been operating she has been very proud of the way the team has pulled together to provide meals for those isolated and vulnerable at home throughout the course of the pandemic. Elaine has been reflecting on volunteer time that has gone into the number of meals produced and delivered, the kindness calls to people at home and all the other work behind the scenes. There has been tremendous community support from local people, businesses, and organisations.

During the covid months when people were particularly isolated and vulnerable, OCK:

Prepared, cooked, and delivered 11,587 mainly hot and some frozen nutritious meals to local vulnerable people at home.

Made 10,110 kindness calls

Served 1,200 nutritious home-cooked meals (since some people have begun to re-join OCK)

64 community patrons have supported OCK

71 community volunteers have given 11,612 hours to support our local community through OCK, which at a minimum wage standard is equivalent to £103,000

OCK's social get together nights have launched and are a success, seeing members of the community (who are normally isolated) dancing, singing and chatting. It has been great to see individuals enjoying themselves in a similar way to pre pandemic times.

"How we used to be" has been proposed as an initiative to allow the community kitchen participantrs to bring in photographs from their life and talk about their experiences."
SEPTEMBER 2021 Our Community Kitchen UPDATE
OCK receive second place award in the 'organisation category' of the Blooming Haddington 2021 Wheelbarrow competition.



OCK have teamed up with Compass School's pupil council and parents to raise funds for the charity through the sale of the school's cookbook. The Haddington based school were able to sell 140 copies, the proceed's for which were donated to OCK. The charity welcomes the fundraising effort and encourages further collaboration between the 2 parties, suggesting the school visits to learn about growing food and the links between gardening, food production and sustainability.

140 copies of the cookbook sold, raising £585 for the charity.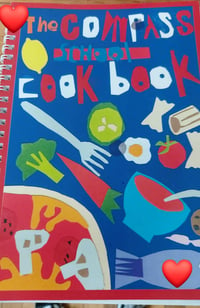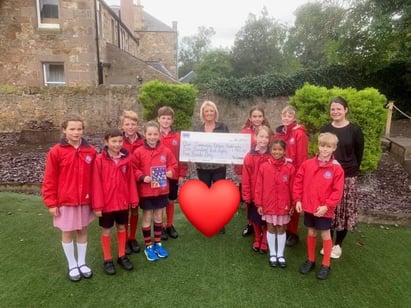 OCK are undertaking the production of kindness cards. A kindness card is a message of positivity, on one side it will introduce the charity. On the other, a message or drawing of something positive, produced by the local school children. The cards will be shared out among local hospitals, day centers and nursing homes.
The charity currently open their doors every Thursday and Friday to around 40-50 people. The prospect of another day (Wednesday) is currently being considered.
On the last weekend of October the charity hope to kick off social events. OCK are keen to host social events centered around music and games. This offers an evening alternative to their regular offering.
In the garden the charity are weeding out some planters and planting spring bulbs following the success of their summer vegetable crop.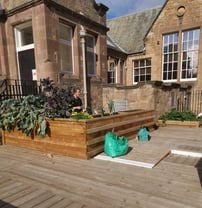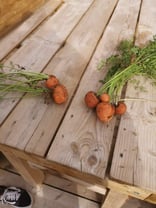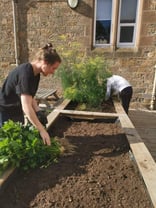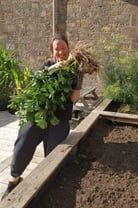 The 'Walk with Scott Foundation' have completed a fundraising effort for local charities, ending at Ross High where OCK met them with a curry for over 100 fundraisers.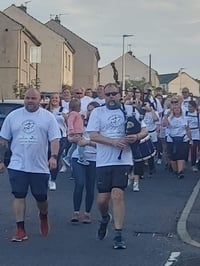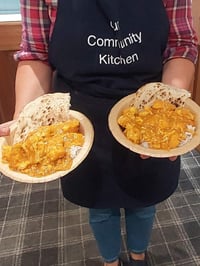 It has been noted by participants that it is very heartwarming to see members of OCK come together again, familiar faces and new faces are making friends and socialising together.
OCK look to host a volunteer day in November where the charity will share future and current plans.
A new fundraising team is on the way as the existing members move on to new projects.
OCK's 50/50 club has this month generated £322.50 for charity and this month's winner takes home £322.50.
The new food warehouse in Haddington has struck up a good relationship with OCK through the donation of food to support OCK.
OCK is currently planning to open on Christmas day for individuals who would otherwise be alone this Christmas. With the week leading up to Christmas the charity endeavor to host a Christmas themed event.
AUGUST 2021 Our Community Kitchen UPDATE
OCK welcome back more individuals to the bowling club on Thursdays and Fridays. The charity continue to achieve their mission through delivering frozen meals to their members around East Lothian. The community kitchen prioritise their objective of helping individuals build their confidence about getting back into regular activities, including attending OCK. The charity are investigating the best approach to achieving this.
Whilst they hope to welcome more individuals back to OCK they are remaining cautious over covid-19 by implementing temperature checks and removing the long table over the next couple of months, smaller tables organised into bubbles will be implemented instead.
Our community kitchen are pleased to welcome Flora to their team, Flora joins as the garden co-ordinator, the charity anticipate interesting ideas to be coming soon as Flora begins her role with the charity.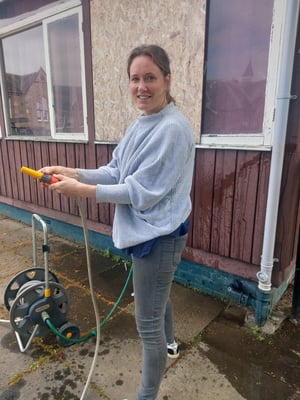 The community kitchen have set up a veggie swap shop - allowing locals to visit to pick their own veg in exchange for donations, currently operating at once a month.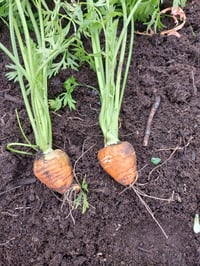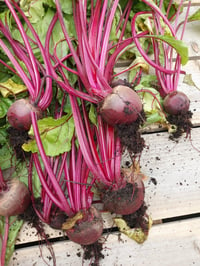 Our community kitchen have recently requested more volunteers to assist the charity in achieving their goals, they have been overwhelmed by the response from the local public. Some volunteering families visited over the weekend to lend a hand in the garden.
The next plan for the garden is to plant lavender to provide a sensory and therapeutic benefits to any visitors to the garden. In addition to this the charity hopes to mount plaques on the wall to recognise the contributions from local organisations and individuals.
Keep Scotland Beautiful's campaign "Blooming Haddington" has seen the community kitchen develop their own quirky blooming wheelbarrow addressing the theme "nature in climate"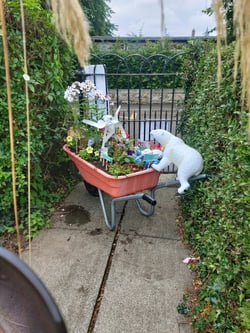 Our Community Kitchen states "It was wonderful to welcome our young P7 helper today who is working towards the gold award of the junior award scheme for pupils (JASS). He is volunteering with us to complete his 18 hours of the "me and my world" section which involves working with a community or environmental project to find out more about the world and meet people in the community. THANK YOU SO MUCH for delivering our meals and also making individual hand written cards for people at home on your routes. This young man also worked with Angela and David Cockerton (proprietors of Garleton lodge - boutique hotel and spa) to help dip and package and then deliver the delicious hand made chocolates which were kindly donated by The Chocolate Stag at Garleton Lodge"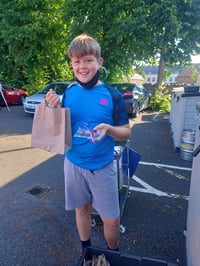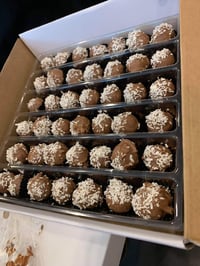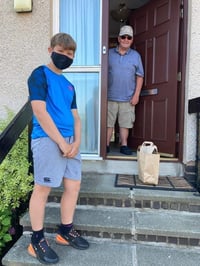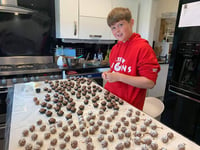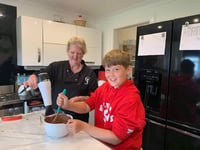 The 50/50 club raised £337.50 to support the charities activities and £337.50 for the individual with the winning number.
JUNE 2021 Five in a Row UPDATE
"A challenge that will take you more than 3000 Miles west from San Sebastian in La Gomera, Canary Islands, Spain (28oN 18oW) to Nelson's Dockyard, English Harbour, Antigua & Barbuda (17oN 61oW)."
PureMalt are proud to support and sponsor local team 'Five in a Row'. They will be raising money for the charity 'Reverse Rett'. The team of 5 will make up 1 of 30 teams participating from around the world.
La Gomera to Antigua - the team will row 3000 miles unsupported across the Atlantic Ocean
The team will take on the unique challenge of crossing an ocean in a rowing boat.
They will also face challenges along the way, including:
Sleep Deprivation

Salt Sores
Physical Extremes
40 Foot Atlantic Swell
Atlantic Storms
The Crew:
Ian Baird - Coastal Rowing Double World Champion
Clive Rooney - Coastal Rowing Double World Champion
Ross McKinney - Actively involved with the charity Reverse Rett since his daughter's devastating diagnosis at the age of 3.
Duncan Hughes - I have never had an outing on the water that hasn't lifted my mood and cleared my head. That theory is about to be tested.
Fraser Potter - The rookie of the crew.
Each crew member must:
Face 40-60 days at sea,

Consume 10 litres of water per day,

Eat over 10,000 calories per day,

Row 2 hours, Sleep 2 hours 24/7.

Collectively it will take 1.5 million rowing strokes.

The challenge will cause each team member to burn in excess of 5,000 calories per day

and result in a 12.5KG weight loss per person.
Rett Syndrome is:
A neurological condition which most often strikes previously healthy little girls between their first and second birthday, leaving them with multiple disabilities and medical complexities for life.
There are many symptoms of Rett Syndrome. Some signs appear in the first 6-18 months of the child's life, but some appear between the ages of 1 and 4. Although very rare, boys can also get the disease.
Reverse Rett - A patient advocacy and research organisation focused on delivering treatments and a cure for Rett Syndrome to everyone affected.
PureMalt are proud to support Reverse Rett and Five in a Row.
We have agreed to support the challenge, keep an eye out for our sponsorship on the vessel!
For further information:
www.fiveinarow.co.uk
www.reverserett.org.uk
www.taliskerwhiskyatlanticchallenge.com


JUNE 2021 Our Community Kitchen UPDATE
This month, teachers from Meadowpark School supported the garden project by sanding down the wooden features in the community garden and applied fire retardant protective spray.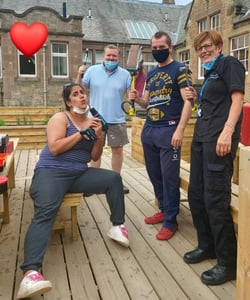 A community planting day was held which saw parents, teachers and kids all volunteer to support the project and get involved in growing and developing the garden.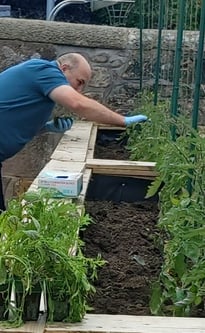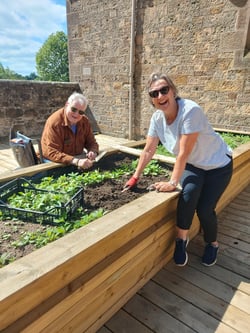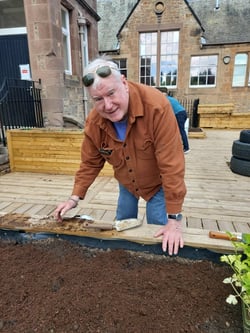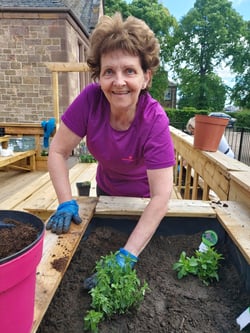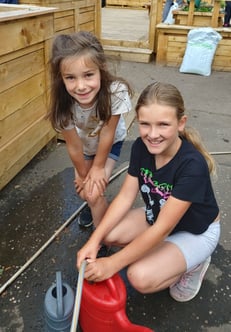 OCK begin interviewing potential candidates for the role of 'Garden Coordinator'.
Our Community Kitchen has decided to stop their hot meal deliveries (from June 13th) and replace these with delivery of frozen meals, providing their members with more variety in their schedule. The change allows the charity to welcome individuals to the bowling club for 1 extra day per week. The bowling club is now welcoming members of the community Wednesday, Thursday and Friday, this has allowed new members visit (some of which had not visited pre covid-19).
Alice Hunton (team leader) has left OCK and celebrated her time with the charity with a leaving event. Alice had joined the team in March 2020 and dedicated her work to ensuring the food was made and delivered to the member's homes.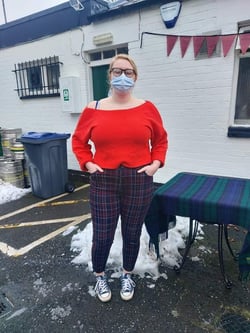 The charity's 50/50 club moves from strength to strength as the potential prize pot grows to £655 with 131 numbers sold to date.
MAY 2021 UPDATE
Over the last month OCK have welcomed back some of their members to the local bowling club for a hot meal 2 days in the last month (Thursdays/Fridays). The charity maintain the operation of their kindness calls offering their support in conversation to their members. Many members still hold concerns over venturing out due to the pandemic.

A small change to their process begins as they change tack to initiate offering their members frozen food, allowing the individual flexibility around their schedule.

All of this will be provided by the installation of a new shed to facilitate the frozen food options. OCK have encouraged the local community to get involved again with this project.

OCK in recent times have attracted new volunteers, further to this the charity are looking to recruit a Co-ordinator for 'Our Community Garden'. If you are interested please contact steven-johnson@hotmail.co.uk for more information.

Within the garden currently the charity are sanding down the wooden structures, providing both safety and aesthetic benefits.

Our Community Kitchen have successfully won a 'Cala Homes' bursary grant as well as the 'Arnold Clark' community fund.

Our Community Kitchen team member Alison was the recipient of the 'East Lothian Volunteer Centre Inspiring Volunteering Awards 2021' award for 'Trustee of the Year' - She has been recognised for her commitment, dedication and loyalty through her work with OCK.

The charity and their team were also able to receive recognition in the form of a second award, picking up their award for 'Team of the Year' at the same event.

Both of these awards are a great achievement for the charity and demonstrate the importance of their work within the local community.
APRIL 2021 UPDATE
Our Community Kitchen feel positive as restrictions begin to ease in Scotland between April and May. Children are already back to their school and enjoying the use of their new community garden. OCK expect that local people and many participants will also be able to return to enjoy it shortly.
Arriving soon are outdoor taps, a sink, an oven, seat covers and a greenhouse, all due to be installed. This is a very exciting time for all involved in this project as it is a key milestone in the development of this area. Less than three weeks remain before the first planting will begin.
Meanwhile within the charity regular meal deliveries continue, however, these have changed from Tuesday and Thursday to Tuesday and Wednesday. The shared facility of the bowling club has recently re-opened which provides the charity members with positivity. OCK are now able to welcome back 10 returning members on Thursdays and Fridays. These individuals will be welcomed back through the use of social distancing, temperature sensors and the track and trace system.
In other news the charity's first newsletter has been published outlining their statistics of meals prepared and kindness calls.
During lock-down:
9,360 Hot Meals Delivered
6,240 Kindness Calls
63 Local Community Volunteers
23 Community Patrons
These are very significant landmarks for the charity and they hope to grow upon these in the near future.
It is very positive to see some members of OCK are feeling confident to return again, however, other members may feel the fear of Covid-19 is still strong.
Finally another 50/50 club draw is just round the corner, last month the charity received £265 in funds and one winner received £265 in cash. OCK hope the prize pot will continue to grow and encourage individuals to sign up to support the charity.
MARCH 2021 UPDATE
Donations have made this garden project possible. Donations have been provided by: Easy PC Haddington, Rotary, Haddington Wines and Whiskies, Joe Forty Sports, John Thompson (OCK member), Haddington Development Trust, Mungoswells, East Lothian Police, Police Scotland, Climate Challenge Fund, HadFab, Leemac, PureMalt, EDF Energy and Walk with Scott Foundation.
The project would not be possible without the dedication and craftsmanship of Stephano (project manager) and Rab (local community member) supported by a number of local volunteers who have provided invaluable support to this project.
The project progresses well with all planters now filled and the benches are now ready to be used offering seating to the school and the community members.
Images below: (Left to right: Planters completed and filled, Stephano testing the benches and Rab under the archway)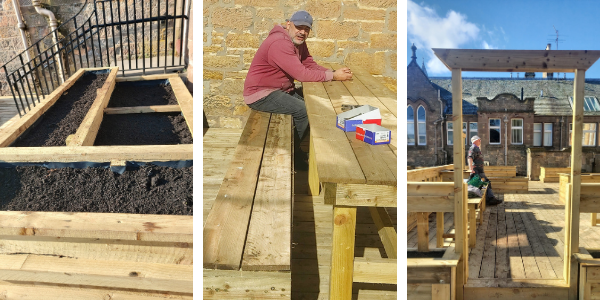 The next step is to install an outdoor tap and sink. In addition to this the green house is due to be delivered shortly.
The charity hope to hold an opening day in June (restrictions depending) to celebrate the completion of the project. On the opening day the community will be able to observe plaques demonstrating the community support provided to the project
The charity hope to welcome members to the bowling club 2 days a week in May based on the new restrictions. They are currently still delivering meals to their members 2 days a week locally and provide a very well received social kindness call to check in with their members.
Andy McBain through Haddington Rugby Club has provided chocolate eggs for all members and volunteers. The OCK initiative the 50/50 club is evidently very successful as they have sold over 106 entries to local community members supporting the charity. Their first draw will be announced soon.
FEBRUARY 2021 UPDATE
This month PureMalt have got hands on in their support of Our Community Kitchen. As the garden project gathers momentum PureMalt team members Henry and Simon volunteered to pick up tools to support with the construction of the garden project. With their assistance progress had been made on the construction of a planter, an archway and the base structure for a second larger planter.
Images below: (Left to right: Henry, Simon, 1st planter)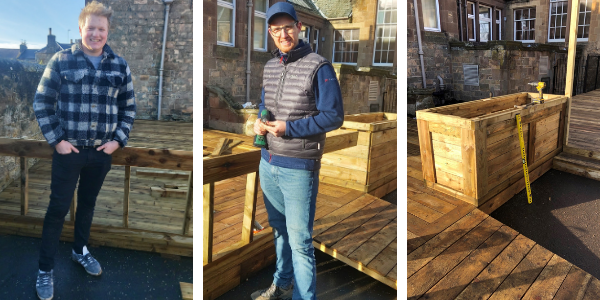 Images below: (left to right: archway, base structure of 2nd planter)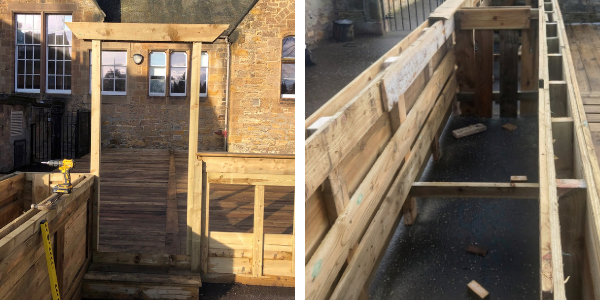 Our Community Kitchen has progressed quickly with this project, since construction began in December 2020 the project nears its close now as we approach the end of February. The project has been made possible by the support and considerable donations form a local community member John Thompson and a number of local businesses: Lemac, Had-Fab, Haddington Community Development Trust, Rotary, Torness Nuclear Power Station, Climate Change Fund, Joe Forte Sports, Haddington Wine and Whiskies, ESPC, Walk with Scott Foundation and PureMalt have all contributed in their own ways in order to provide the community with this initiative. As we report on the activities of the OCK garden all planters are now built and construction of tables, benches and the foundations for the kitchen are taking place. The tables will cater to seat 30 people, whilst the kitchen will provide an area for cooking demonstrations to take place as well as a hub of activity within the community. The charity have plans to develop this garden further through the installation of greenhouses in this area.
Images below: (left to right: multiple planters finished, tables built, table close up)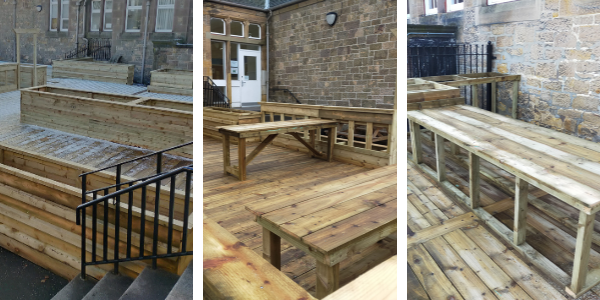 OCK hope to invite the school pupils to join in finishing off the project by encouraging them to pick up buckets and fill their planters with soil for the growing project ahead.
Whilst the work on the garden is in progress the charity have continued their mission of tackling isolation by distributing hot meals to isolated members of the community, continuing their kindness calls to open communication with their members as well as carrying out window visits from their team. OCK have encouraged their members to communicate with each other during the lockdown this has resulted in poems written by the charities' members being distributed and one member has taken to knitting knee blankets to send to other members of their community.
A 50/50 club has also been launched by OCK, this fundraising activity will raise money for the charity through monthly entries to win the prize-pot which will be shared 50% to the charity and 50% to the winner.
DECEMBER 2020/JANUARY 2021 UPDATE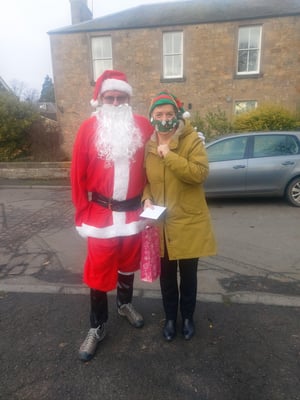 During December, Our Community Kitchen continued their mission of tackling isolation in the local area by delivering hot meals to isolated members of the local community. On Christmas day, assisted by Santa Claus, festive volunteers committed to preparing and delivering hot meals and seasonal goodies from the local bowling club.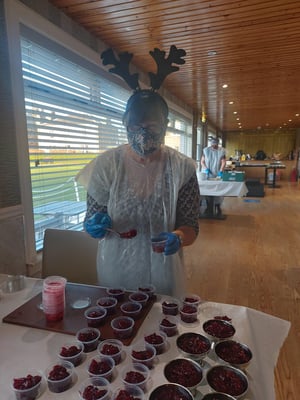 More information on this from OCK's feature in the East Lothian Courier available here:
https://www.eastlothiancourier.com/news/18998819.community-kitchen-volunteers-delivered-christmas-dinners-gifts/
As the new year commenced Our Community Kitchen have shared with us exciting news of their latest project. OCK are working on developing a community garden in partnership with Knox Academy School and Meadowpark School Haddington.
OCK hope the garden project supports their mission of tackling isolation. It is hoped this will be achieved through planting, growing and cooking homegrown produce from the garden. This plan will involve not only the members of OCK but also the pupils from the school and the wider community, providing a platform for developing friendships and connections.
OCK hopes to plant and grow a selection of fruits, vegetables and herbs. A greenhouse, vertical gardens, an outdoor kitchen and polytunnels are all planned for the garden. This will provide suitable growing conditions for a broad range of produce. The outdoor kitchen will allow cooking demonstrations to take place, encouraging participation from the community.
This garden will function as a hub for the community, hosting a plethora of activities scheduled to take place throughout the year.
There has been a strong focus on this project recently, due to its outdoor nature, allowing work to continue safely within the garden during the covid-19 restrictions. OCK are very grateful for the support they have received from the community, local organisations and local businesses.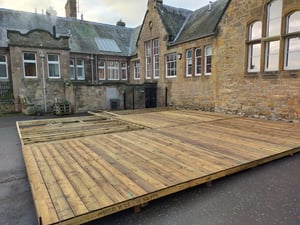 This photograph shows the progress on the project so far, OCK estimate they are less than 1 week away from the completion of the decking.
The exciting next stage is for the planters to be built, with support from some members of Team PureMalt.
OCK continue their regular activities of preparing, cooking and delivering hot meals across the community and making their kindness calls to keep in touch with their members over the telephone. They have also received positive feedback mentioning how friendly the delivery drivers have been in providing this service, with a simple smile making a significant improvement to someone's day.
OCK hope that as covid-19 restrictions begin to ease they will be able to welcome their members back to the bowling club, gather round the table for a chat and a hot meal.
NOVEMBER 2020 UPDATE
For the duration of November, the charity has been able to provide over 100 meals per week to it's participants on a Tuesday and Thursday each week. The charity continues their kindness calls for their isolated members to ease the effects of isolation with conversation and companionship.
'Our Community Kitchen' eagerly await news of funding to begin work on their community garden. It is planned that stage 1 of the garden project will commence before Christmas, stage 1 will involve the setup of the groundwork and construction for the garden. OCK is encouraging people to volunteer to get involved in their garden project by volunteering their time in support of the setup of the garden.
Whilst East Lothian moves into tier 2 'Our Community Kitchen' remain unable to operate at the capacity they did pre-Covid-19. 'OCK' can set up 5 socially distanced tables 1 day a week. This reduced service is expected to continue whilst the risk of covid-19 is still strong. It is expected to take at least until summer 2021 for 'OCK' to be able to return to normality. The return to meeting in the local bowling club for a warm meal and company is fundamentally important to the lives of the many members of the community that 'OCK' serve. During the spring months of 2021, OCK will open two days per week to provide a socially distanced space for people to reconnect and to establish friendships over food. This will be a leade into coming around the table once again.
'Our Community Kitchen' launched its reverse advent calendar initiative. The reverse advent calendar requests the generosity of the public to donate a single food item on each day of advent. These items will then be sent to Knox Academy School, who add to the donation and will then be sent to the food bank with some of the food being sent to OCK participants at Christmas time.
During the festive period, OCK will open on Christmas day to provide hot Christmas meals delivered to their participants at home. People will be able to enjoy a hot meal, a small bottle of wine (generously donated by Shiva and Shanthi Kumar at Haddington Wines and Whiskies), a gift bag containing small Christmas gifts of; chocolate truffles, apple chutney, Christmas pudding, friendship bracelets made by local brownies and homemade Christmas cards (made by the local primary school children). Over the course of the 7th and 9th of December, the OCK volunteers will dedicate time to decorating the gift bags that their members will receive and to make baubles. Participants of OCK will receive all the afore mentioned Christmas goodies delivered by Santa Claus.
Participants of OCK who already face the issue of isolation continue to face extreme circumstances caused by the COVID-19 pandemic. This increased difficulty makes isolation an important issue to tackle and the value of the work carried out by OCK can truly be seen.
OCTOBER 2020 UPDATE
'Our Community Kitchen' receives Scottish Parliament recognition through motion raised by Iain Gray MSP - "I was delighted to hear about the national recognition for the unique partnership developed between Our Community Kitchen and Haddington Bowling Club. The partnership had already been making a positive impact before the pandemic but fulfilled a really important role during lockdown. Those involved have achieved a huge amount in a relatively short period of time and I felt their contribution and the recognition they have rightfully received was worthy of being acknowledged by Holyrood."
Determined by their mission to tackle loneliness in the area and united over their passion for food. Our Community Kitchen set plans for growth within the community through planting a community garden. Partnering with local schools Knox Academy and Meadowpark (

Meadowpark Knox Academy is for children and young people of secondary school age from East Lothian who have needs primarily associated with Autism Spectrum Disorder). The partnership hopes to develop some of the school's green space into decking, planters and an outdoor kitchen - hosting guest chef demonstrations. Using the chef's creativity and support to build a functional garden in which to grow produce for their gastronomical activities.

Our Community Kitchen continues their lockdown activities of:

Cooking and distributing over 100 hot meals 2 days a week for the communities most isolated members

Kindness calls twice a week to provide isolated members of the community with friendship, support and discussion, aiming to tackle the issue of loneliness (which becomes increasingly difficult during the winter months, this difficulty is inflated by the difficulties the pandemic brings)

OCK have initiated socially distanced kindness walks, a development on from the kindness calls where isolated members of the community are given the chance to get outdoors safely and enjoy company provided by OCK.
AUGUST 2020
Our Community Kitchen has shared their latest video with us, watch here to learn more about what they are doing, why they are doing it and how they have supported the community during Covid-19.

HRFC return to the pitch in line with the SRU guidelines issued on the 20th of August here

Haddington Athletic return to training