OUR COMMUNITY KITCHEN
This month PureMalt have got hands on in their support of Our Community Kitchen. As the garden project gathers momentum PureMalt team members Henry and Simon volunteered to pick up tools to support with the construction of the garden project. With their assistance progress had been made on the construction of a planter, an archway and the base structure for a second larger planter.
Images below: (Left to right: Henry, Simon, 1st planter)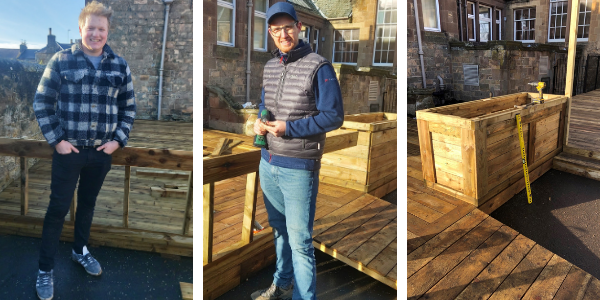 Images below: (left to right: archway, base structure of 2nd planter)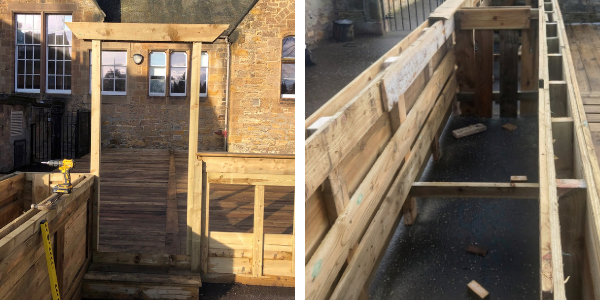 Our Community Kitchen has progressed quickly with this project, since construction began in December 2020 the project nears its close now as we approach the end of February. The project has been made possible by the support and considerable donations form a local community member John Thompson and a number of local businesses: Lemac, Had-Fab, Haddington Community Development Trust, Rotary, Torness Nuclear Power Station, Climate Change Fund, Joe Forte Sports, Haddington Wine and Whiskies, ESPC, Walk with Scott Foundation and PureMalt have all contributed in their own ways in order to provide the community with this initiative. As we report on the activities of the OCK garden all planters are now built and construction of tables, benches and the foundations for the kitchen are taking place. The tables will cater to seat 30 people, whilst the kitchen will provide an area for cooking demonstrations to take place as well as a hub of activity within the community. The charity have plans to develop this garden further through the installation of greenhouses in this area.
Images below: (left to right: multiple planters finished, tables built, table close up)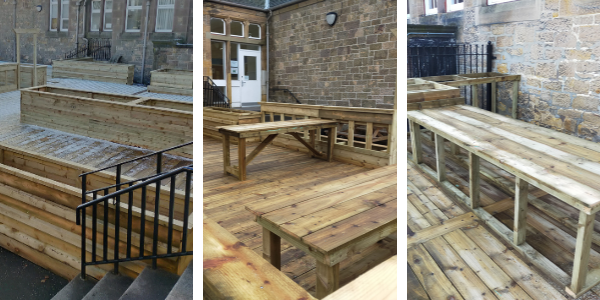 OCK hope to invite the school pupils to join in finishing off the project by encouraging them to pick up buckets and fill their planters with soil for the growing project ahead.
Whilst the work on the garden is in progress the charity have continued their mission of tackling isolation by distributing hot meals to isolated members of the community, continuing their kindness calls to open communication with their members as well as carrying out window visits from their team. OCK have encouraged their members to communicate with each other during the lockdown this has resulted in poems written by the charities' members being distributed and one member has taken to knitting knee blankets to send to other members of their community.
A 50/50 club has also been launched by OCK, this fundraising activity will raise money for the charity through monthly entries to win the prize-pot which will be shared 50% to the charity and 50% to the winner.