OUR COMMUNITY KITCHEN
Donations have made this garden project possible. Donations have been provided by: Easy PC Haddington, Rotary, Haddington Wines and Whiskies, Joe Forty Sports, John Thompson (OCK member), Haddington Development Trust, Mungoswells, East Lothian Police, Police Scotland, Climate Challenge Fund, HadFab, Leemac, PureMalt, EDF Energy and Walk with Scott Foundation.
The project would not be possible without the dedication and craftsmanship of Stephano (project manager) and Rab (local community member) supported by a number of local volunteers who have provided invaluable support to this project.
The project progresses well with all planters now filled and the benches are now ready to be used offering seating to the school and the community members.
Images below: (Left to right: Planters completed and filled, Stephano testing the benches and Rab under the archway)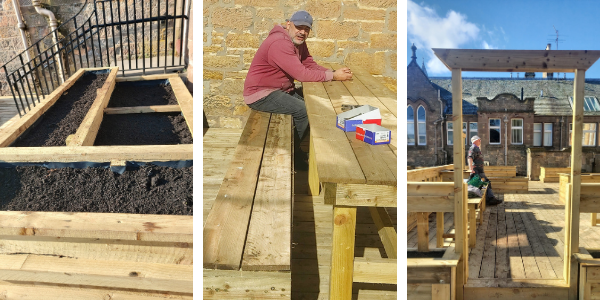 The next step is to install an outdoor tap and sink. In addition to this the green house is due to be delivered shortly.
The charity hope to hold an opening day in June (restrictions depending) to celebrate the completion of the project. On the opening day the community will be able to observe plaques demonstrating the community support provided to the project
The charity hope to welcome members to the bowling club 2 days a week in May based on the new restrictions. They are currently still delivering meals to their members 2 days a week locally and provide a very well received social kindness call to check in with their members.
Andy McBain through Haddington Rugby Club has provided chocolate eggs for all members and volunteers. The OCK initiative the 50/50 club is evidently very successful as they have sold over 106 entries to local community members supporting the charity. Their first draw will be announced soon.