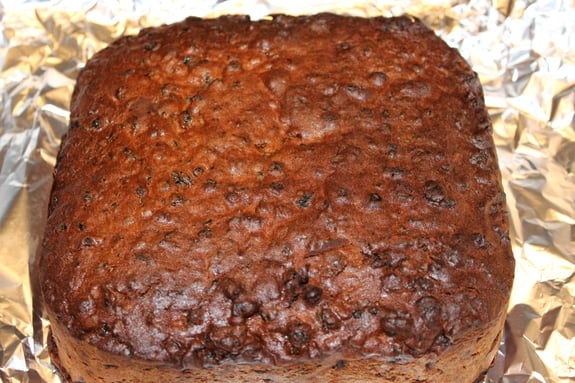 My traditional recipe Christmas Cake, which was handed down to me by my Grandmother. I have made this cake just about every year since I was a teenager and my Grandma first introduced it to me. Its a classic recipe and never fails.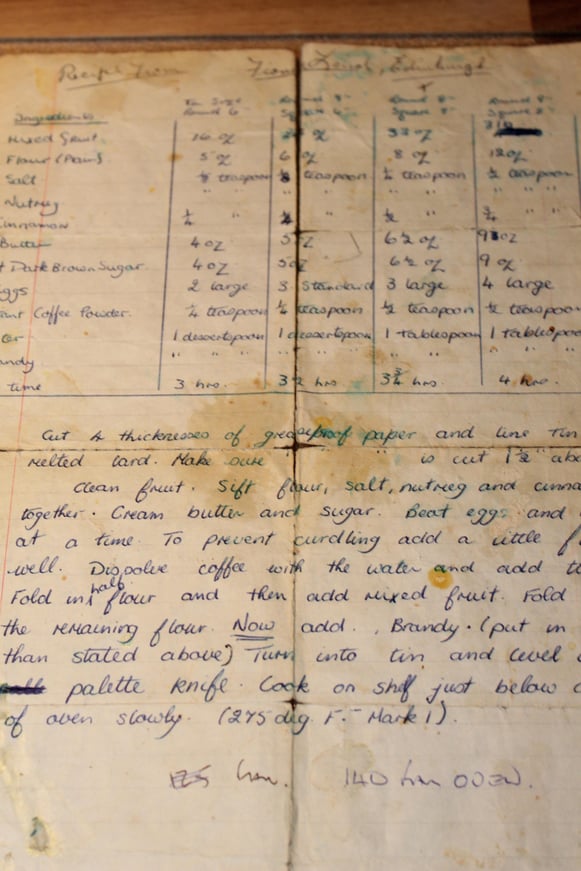 This year, I actually had to sellotape it all together as it was falling to bits. One of the good things about this recipe, is that it gives you various sizes of tins and the relevant measures of ingredients to use, which is very useful indeed. I am making two this year, so have gone for a square 7 ins and a round 8 ins, so same amounts for each.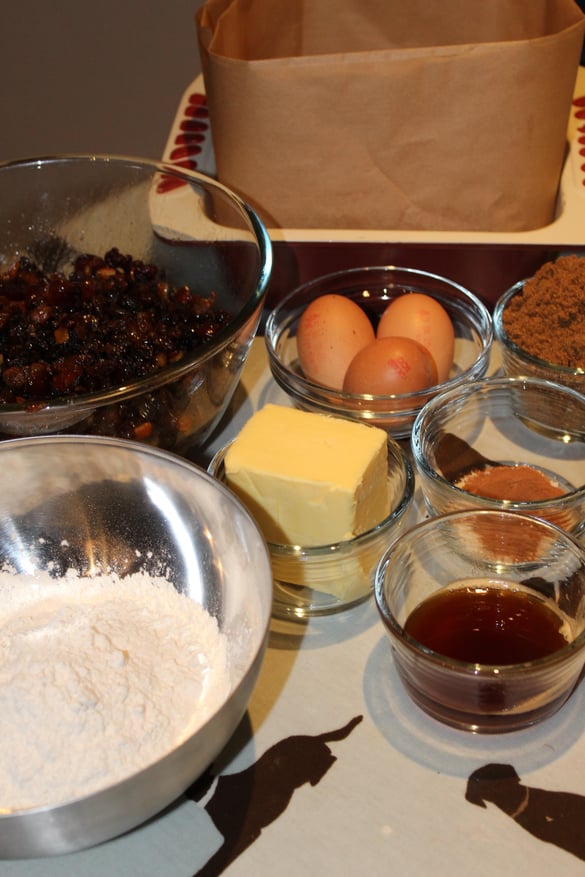 I always measure everything out and line my baking tin, before starting. Just makes life a tad easier. I apologise in advance as all ingredients are measured in the old fashioned ounces, due to the age of recipe. Also, in previous years, before we had food processors and mixers, it was all mixed up in large bowl and stirred by hand with ye old wooden spoon! Nowadays, I use the food processor or the mixer.
Ingredients:
33 ounces of Mixed Fruit. (you can buy bags of ready mixed or make up your own)

8 ounces Plain Flour.

6 1/2 ounces Unsalted Butter.

6 1/2 ounces Soft Dark Brown Sugar.

3 x Large Fresh Eggs.

1/4 x tsp Salt.

1/4 x tsp Ground Nutmeg.

1/2 x tsp Ground Cinnamon.

1/2 x tsp Instant Coffee Powder.

1 x tbsp Water.

2 x tbsp Brandy (or whiskey or dark rum or even sherry)
Firstly, pre - heat your oven to 130c fan or 275f or gas mark 1. Then line your baking tin with at least a couple of layers of Baking Paper, making sure paper is at least 1 1/2 inches above the top of the baking tin. Set aside till required.
In a large clean and dry bowl, add your flour, salt, nutmeg and cinnamon and mix together.
In another bowl, add your fruit mixture and into this pour your brandy and mix through the fruit. Dissolve your coffee powder with the water in a little bowl and set aside. You could also add this to the fruit mixture at this stage but I reserved it till later.
In Food processor, if you are using one, cream butter and sugar together.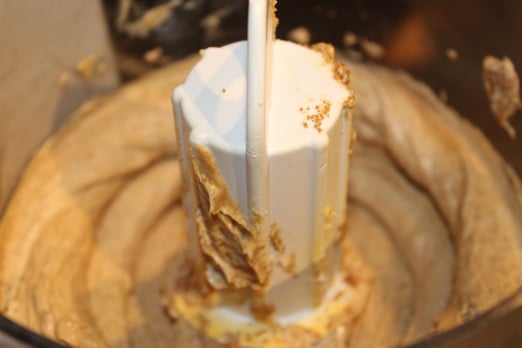 Break the eggs into a teacup and gently whisk together.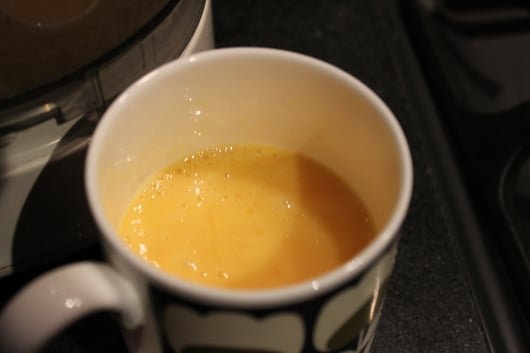 Turn down speed on mixer and slowly add egg mixture till its all combined.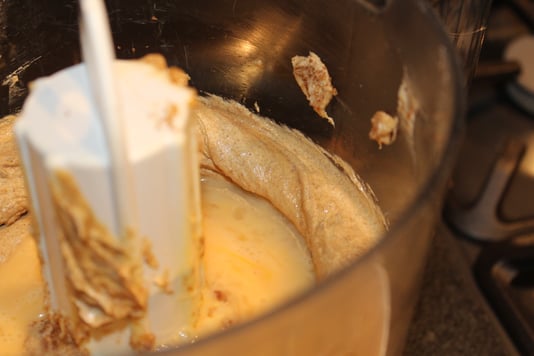 If it shows signs of curdling, add a couple of heaped spoonfuls of flour mixture and combine quickly till you get a smooth batter.
Next add the flour a few spoonfuls at a time, turning down the speed on the mixer so you don't over-beat.
When all the flour is fully mixed in, you can add the coffee mixture, on slow speed on mixer.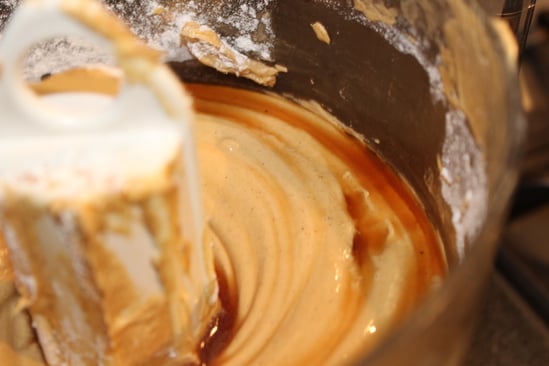 Now its time to add the fruit mixture. Make sure your mixer speed is on its lowest as you are just wanting to combine all the ingredients now, not to whizz them up.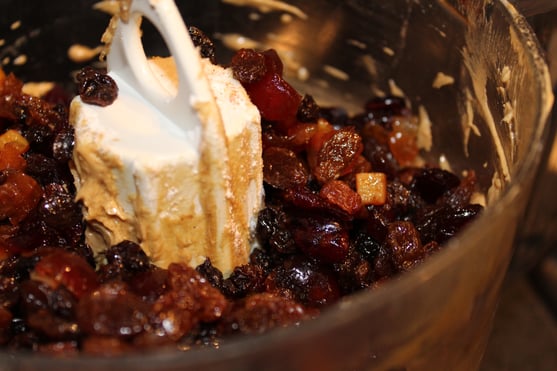 After all the fruit has been added and well coated with the cake batter.
Now you can start to spoon mixture into lined cake tin, pressing it down and into corners as you go.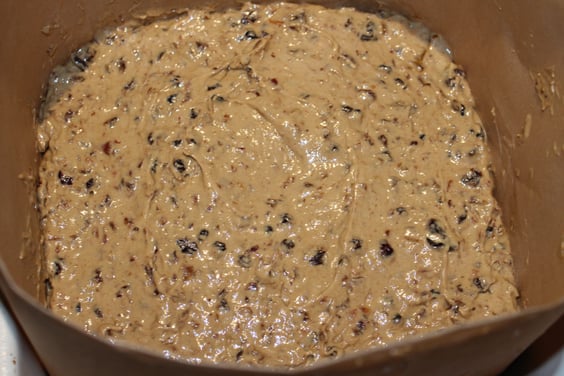 When you are happy cake mixture is all level and flat, pop into your pre-heated oven and bake for approx 3 hrs 45 mins, depending on your oven. I like to set my timer for 3 hours and then check with a skewer to see how its coning along. Also I have found in the past that the square cake seems to take less time than the round! Keep you eye on it and if you feel its not quite cooked through, ie skewer isn't clean when removed but yet top of cake is starting to darken cut a piece of baking paper and place over top of cake to prevent it burning.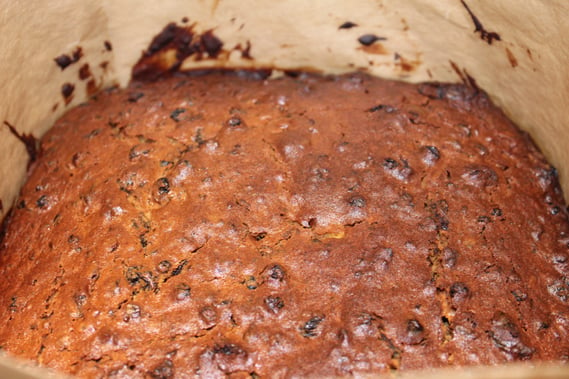 When your happy with it, remove from oven and allow to cool in tin before decanting it onto a cooling rack.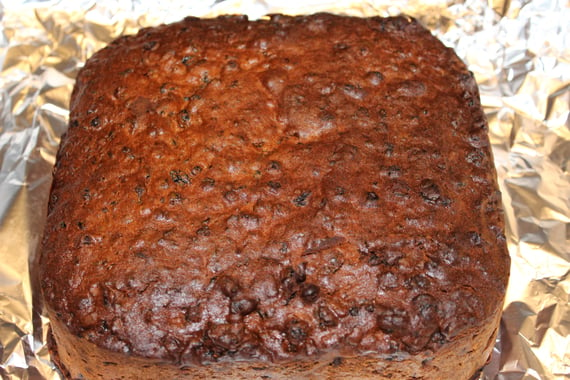 When its completely cold, securely wrap in foil and seal in container.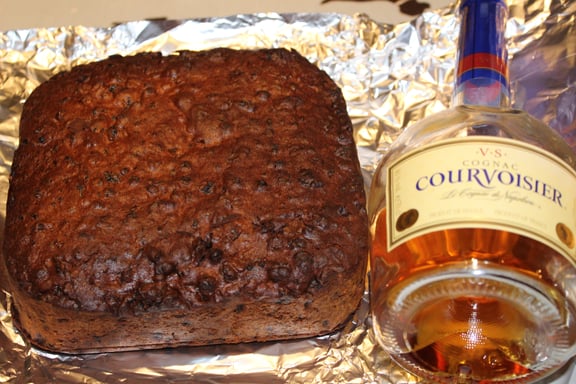 Remove wrapping every week and feed cake with a tablespoon of your choice of spirit
I used Brandy in cake mixture so always feed cake with that.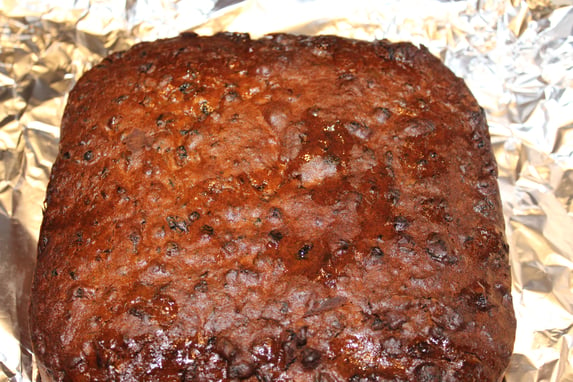 When all liquid has soaked in, reseal with foil and place back in air tight container till next feed. I tend to feed at least once every couple weeks in run up to xmas.
I will be covering cake with Marzipan and Royal Icing in the week before xmas.
Fee x