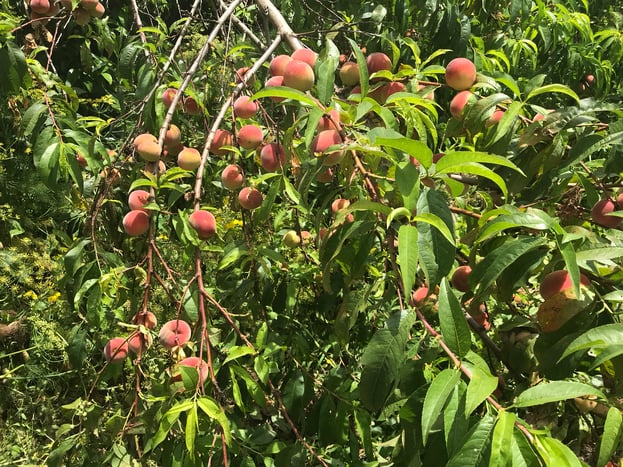 Lucky to have such an abundance of fresh Peaches to pick off the tree in my family's garden. So many this year apparently, Now to figure out what to do with them before the birds eat them! We have had 3 x bags full so far and given another away to the neighbours.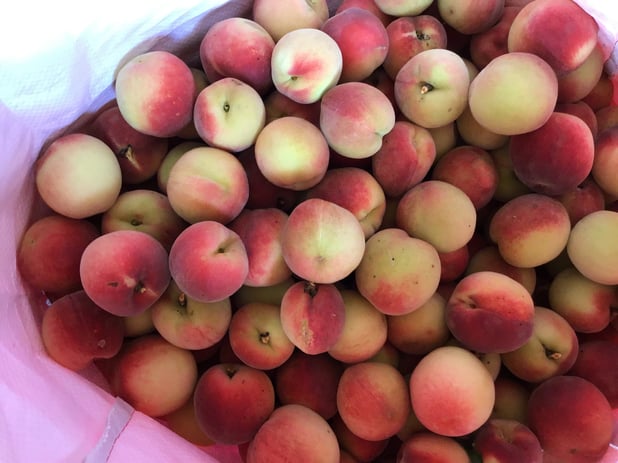 Some are still quite firm so we have used these to make Jam and to bottle for use later in the year. The softer ones we have used to make Peach Chai Iced Tea and Baked Peaches with honey and cinnamon. I know you are saying, peaches aren't in season here but you can still buy them in the supermarket and you could use frozen. Beat the winter blues and pretend it's a summers day!
Peach and Vanilla Jam.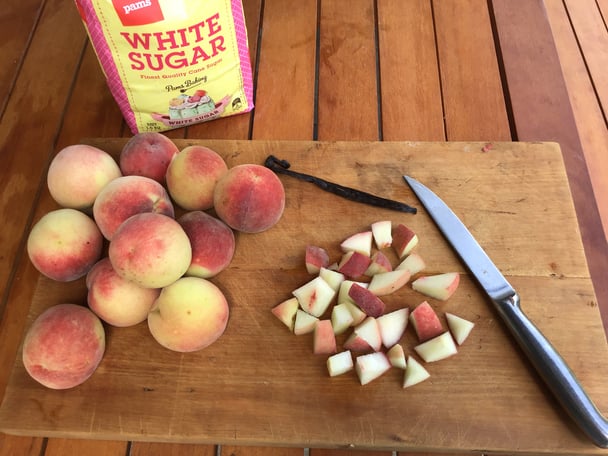 Ingredients:
1.5 kgsPeaches.

1.5 kgsGranulated Sugar.

1 x Vanilla Pod split.

juice of 2 fresh lemons (forgot lemons in picture)

Water. 250 mls
Wash fruit and chop into bite size cubes, discarding peach stone.
Put into large saucepan along with water. Split your Vanilla Pod lengthways and add to pan. Slowly bring to simmer.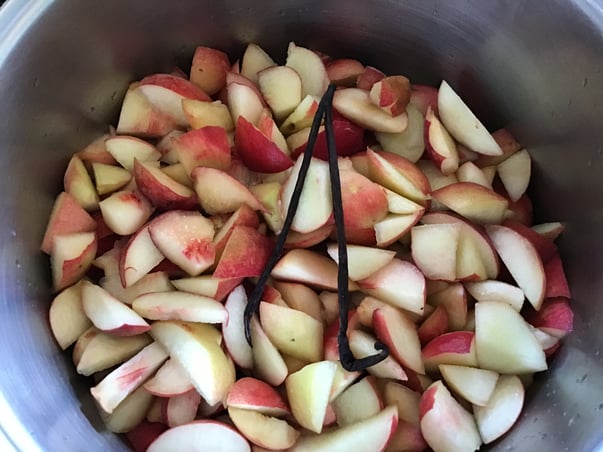 Let it simmer gently until fruit starts to soften slightly.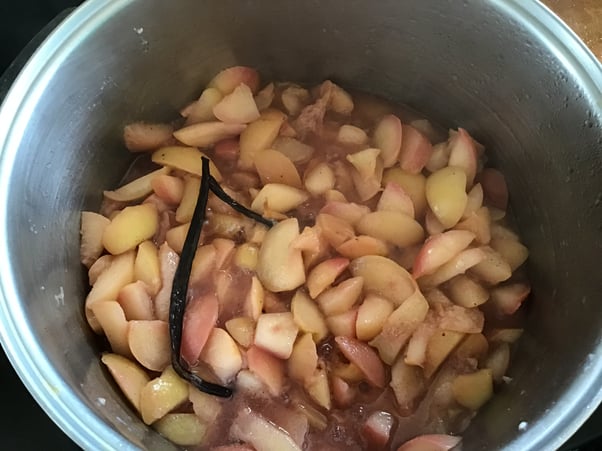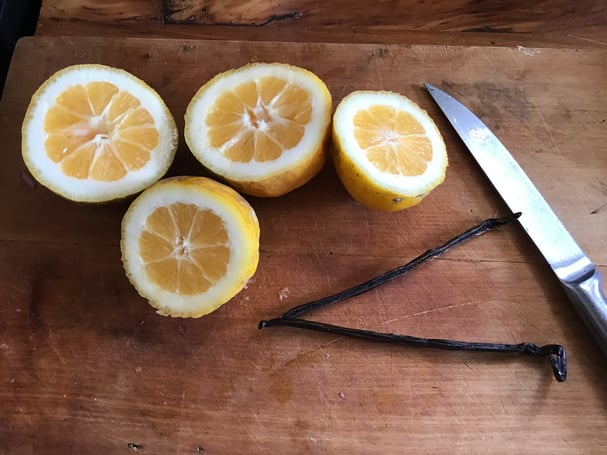 Then add sugar and lemon juice.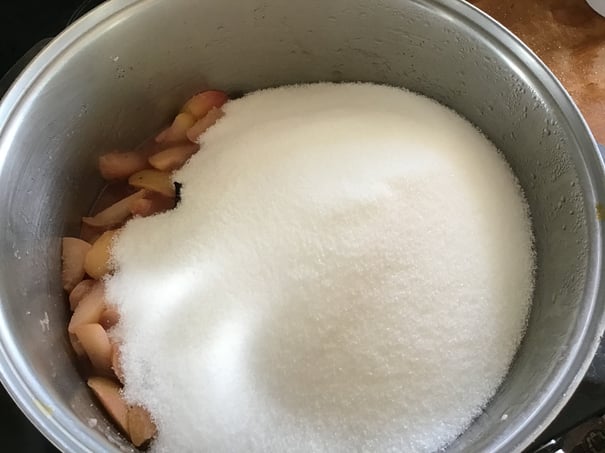 Stir until sugar has dissolved to avoid sticking to bottom of pan.
Bring mixture to boil and let it boil rapidly for around 10 minutes until temperature has reached around 120 on a Candy Thermometer.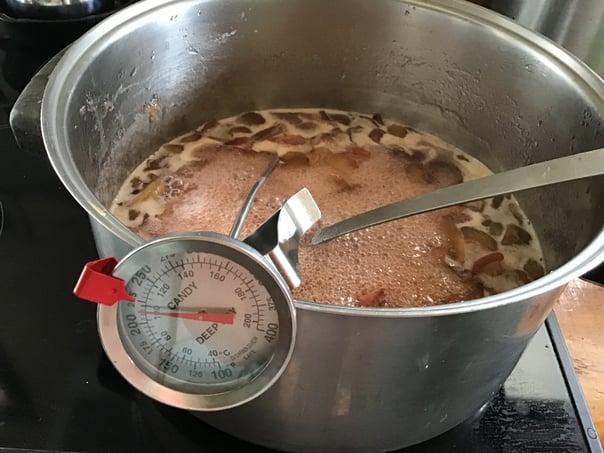 I always use the old fashioned way of testing jam by taking a small spoonful and adding it to a saucer or plate that has a little cold water in it. If the jam sets you will get a ripple effect if you push it lightly with your finger. If it's ready remove from heat and allow to cool. Whilst it's cooling prepare your selected jam jars by placing in boiling water then drying off in a hot oven. This will sterilise them enough to fill with jam mixture.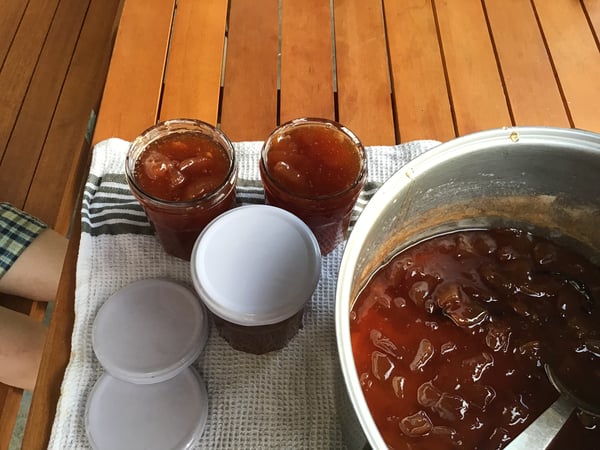 Fill jars with your yummy mixture and secure lid immediately. Store in a cool dark place until ready for use. It's always a good idea to get labels to stick on jars with dates when jam was made and type.
Enjoy with your hot toast in the mornings or on freshly baked scones.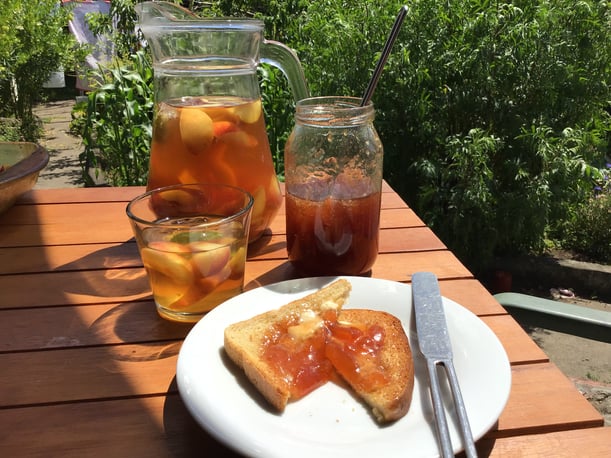 I enjoyed mine on gluten free wholemeal bread with a glass of freshly made...
Peach and Chai Iced Tea.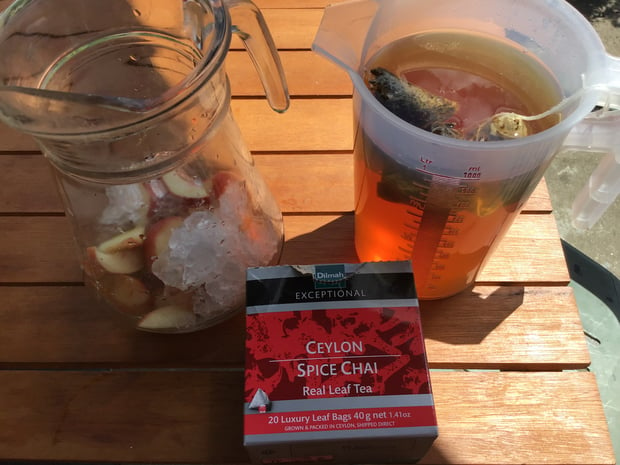 Ingredients:
3 x Chai Tea Bags.

900 mls boiling water.

4 x mediums Peaches, sliced up.

handful ice cubes

a few sprigs fresh mint leaves.
Boil Water in kettle and make tea with you 3 tea bags, leave to cool slightly.
After cutting up your Peaches, add them to a large serving jug, along with ice.
Add your Tea and then mint leaves, pour a glass with more ice added if required.
Very refreshing non alcoholic drink.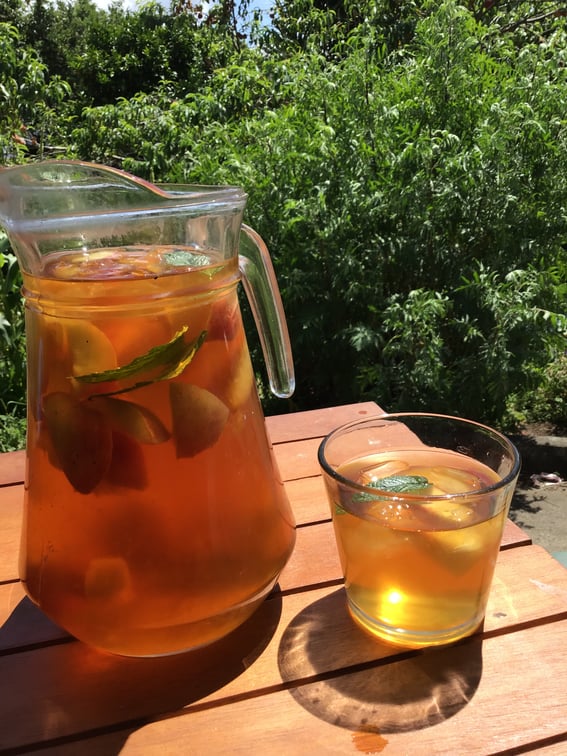 Cheers folks!
Bottled Peaches.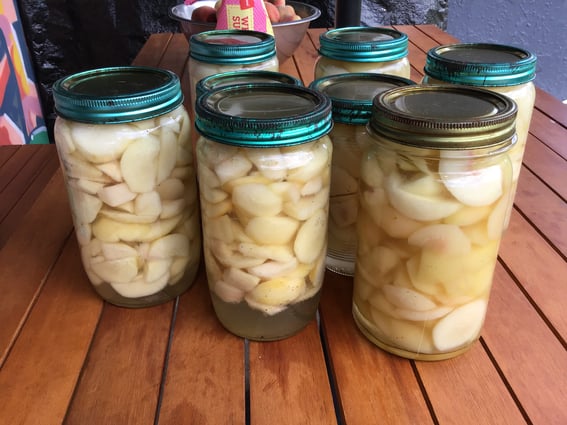 Ingredients:
Bag full of Peaches.

2 kgs Granulated Sugar.

1 x Vanilla Pod

Water. x5 ltrs
Obviously this will depend on how much you want to make, how many peaches you have and how many large bottling jars you have. We had a quite a lot of everything!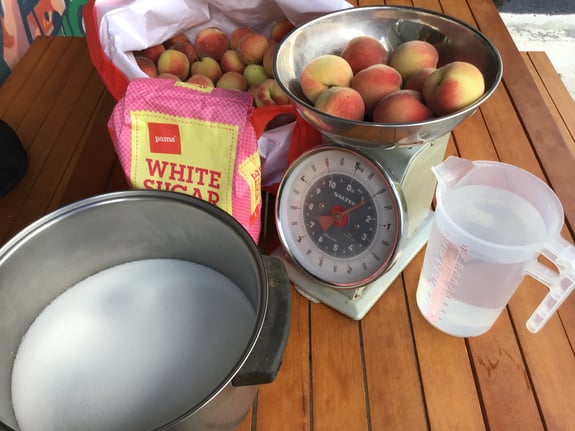 Start by placing sugar and water in a very large saucepan and bring to boil, then add Vanilla Pod that you have split lengthways.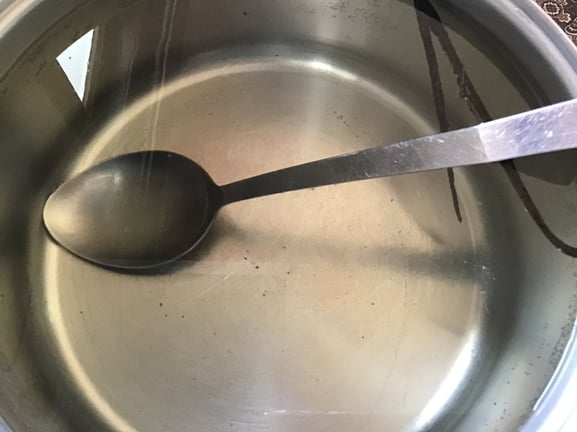 Whilst waiting on sugar and water coming together, peel and slice up your peaches, discarding the stone and the skin.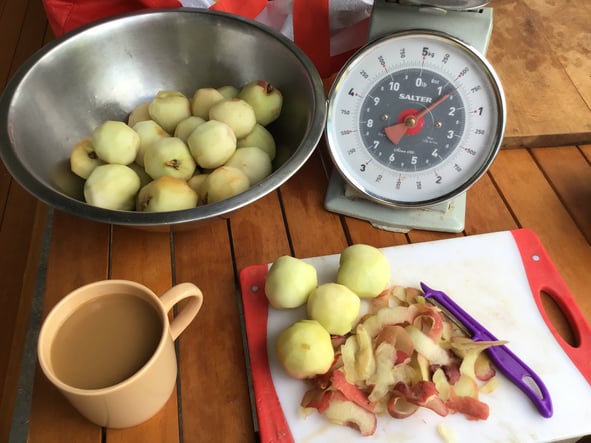 We had a coffee whilst we were sitting outside in the sunshine peeling away!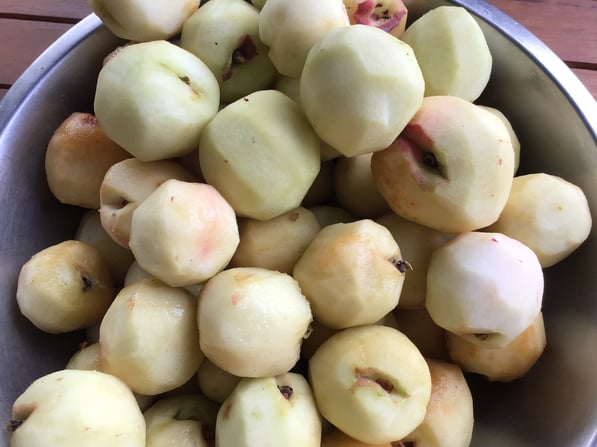 It's quite a tedious job, especially when you have a sack full of Peaches to peel!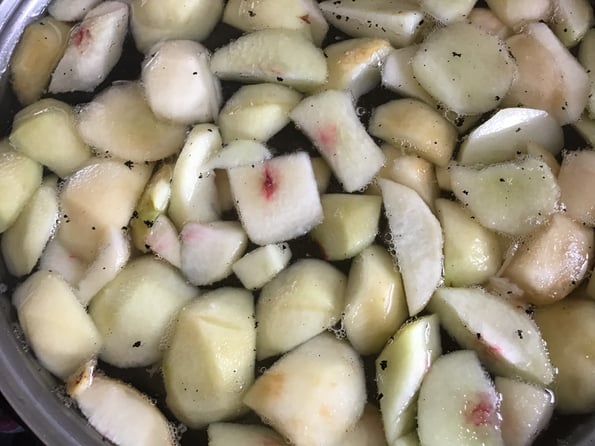 When the sugar syrup is simmering add a jar full of peaches to saucepan and leave in syrup for about 5 minutes.
Remove and pop into your already sterilised bottling jars, carefully and slowly as the sugar syrup will be extremely hot.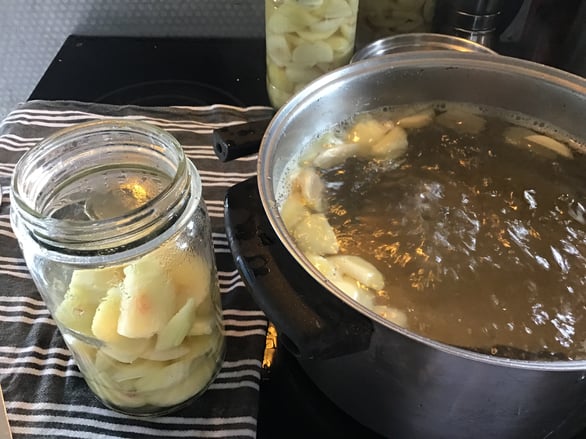 Once your jars are topped up full of peach slices, start to slowly add some of the liquid sugar syrup until the jar is full to the brim.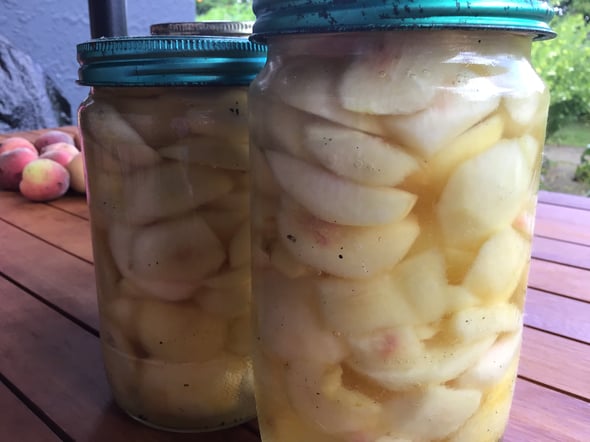 Quickly add the tops to the jars and leave to cool as will be very hot to handle.
Repeat process until you have run out of your prepared peach slices and sugar syrup.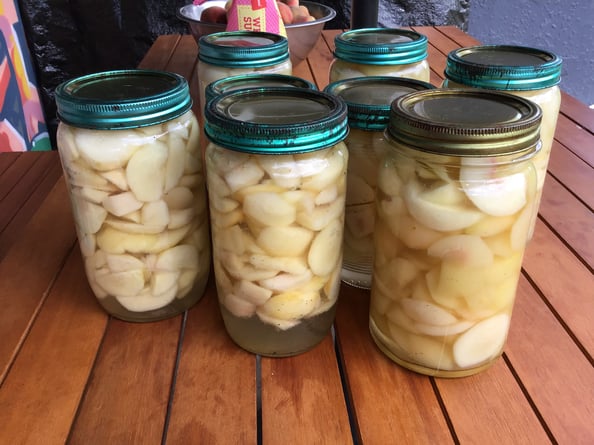 You should now have a few Bottles of yummy sweet soft peaches to enjoy throughout the coming months, if they even last that long.
You can serve them for breakfast with some yoghurt and muesli, or over ice cream as a pudding or use to make crumble and pies. Whatever, the choice is yours.
Enjoy.
Caramelised Baked Peaches with Cinnamon.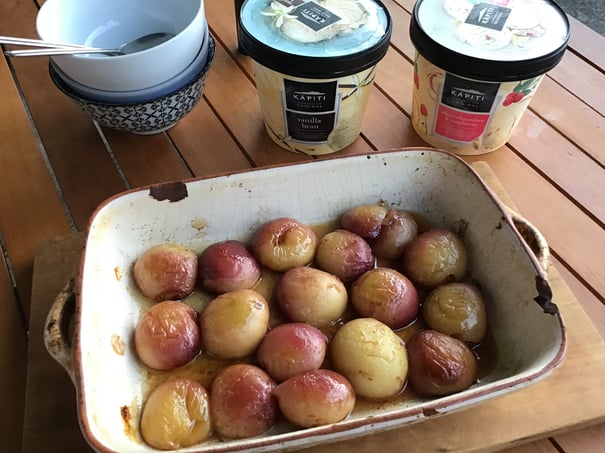 Ingredients:
8 x medium Peaches, stones removed.

2 ozs butter.

2 x tablespoons Brown Sugar. ( white is shown in picture but I did use brown )

2 x tablespoons Manuka honey ( or one of your choice )

2 x tsp cinnamon powder.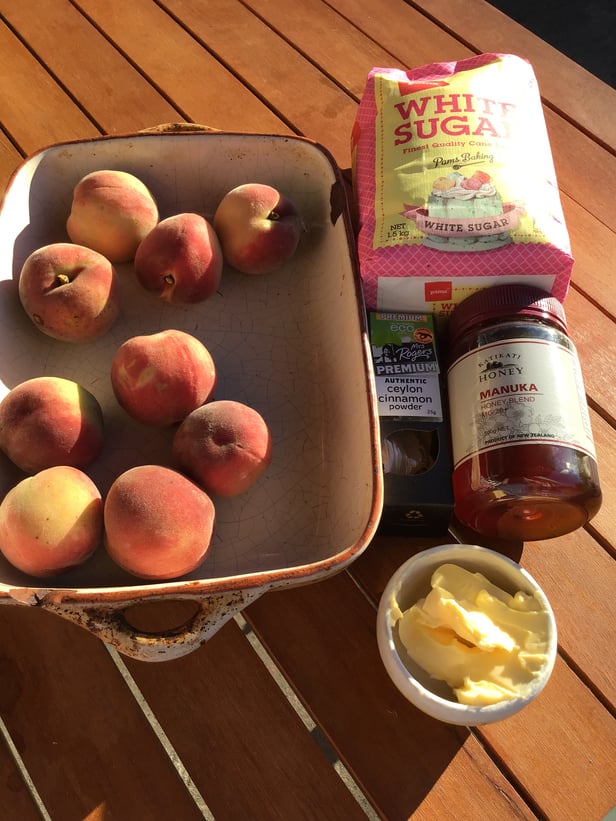 Wash fruit, in half and discard stone. Place in a large ovenproof dish cut side up.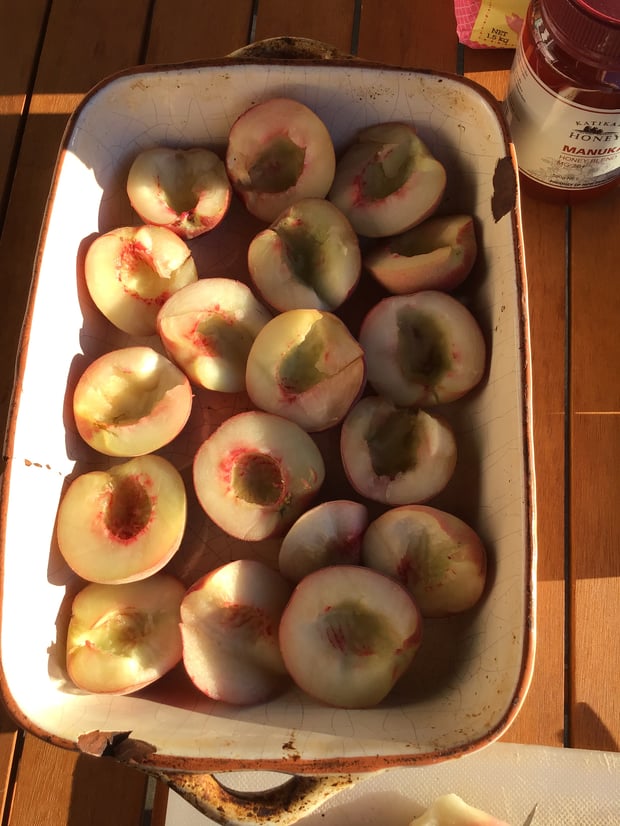 Spoon a little butter onto each half, then sprinkle over with the brown sugar.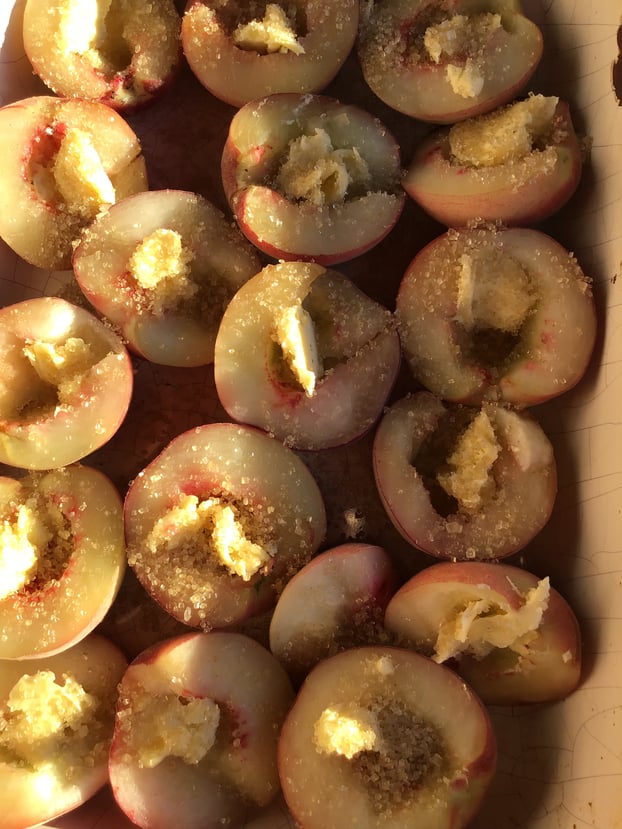 Drizzle over the honey and then dust each one with some cinammon.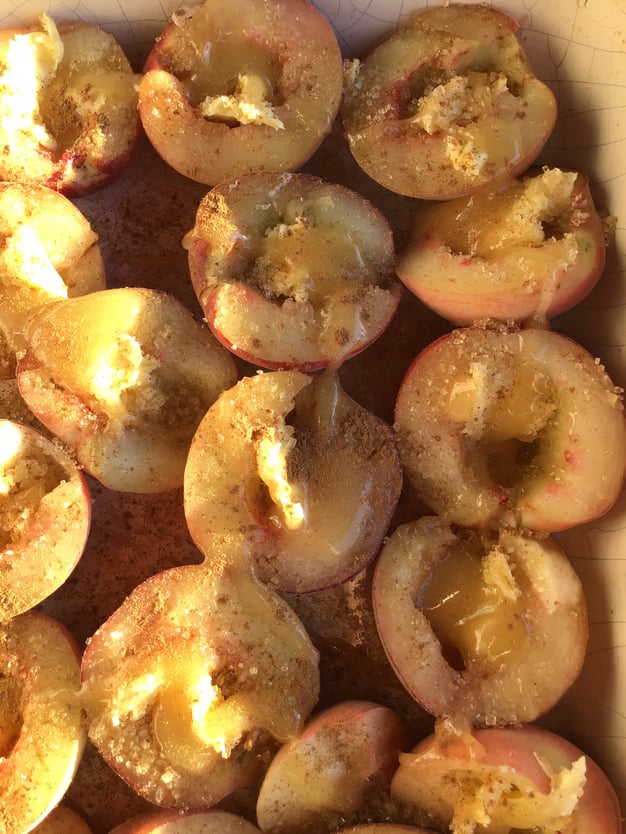 Bake in a pre-heated oven at 180 c for about 20 minutes or until Peaches are gently bubbling and have taken on a caramelised look.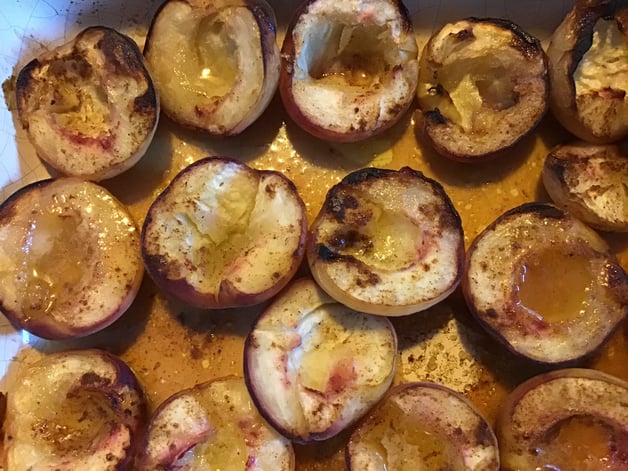 Using a large spoon, gently flip them over so that the skin side is facing up!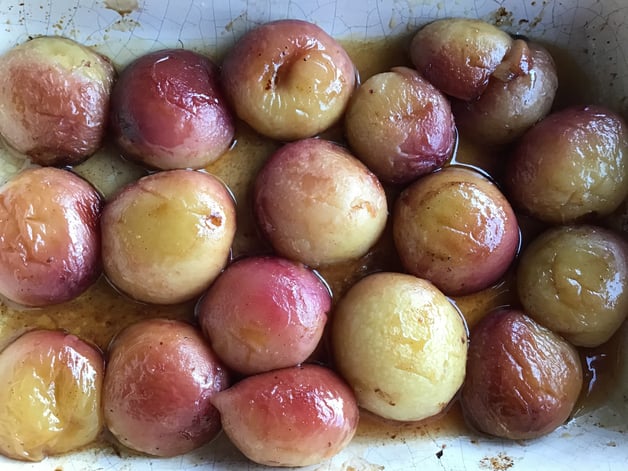 Serve with some custard, or double cream or as we did with a choice of Vanilla or Raspberry and white chocolate Ice Cream.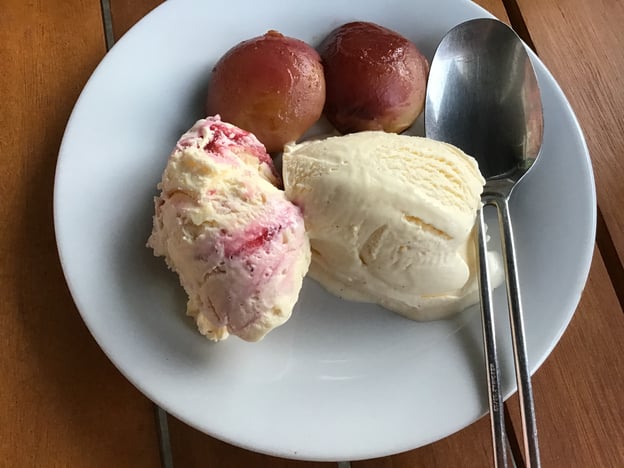 Soooooo yummy and so easy to make .... even in winter this would be a welcome desert!
Hope you enjoy my first recipes of yummy food made in NZ.
Oh and Happy New Year to you all!
Fee x