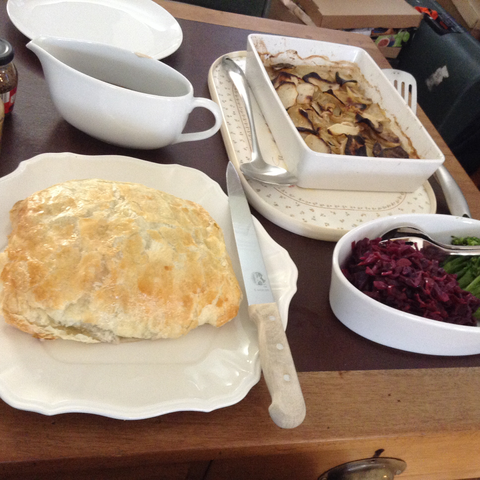 An alternative to the Turkey for Christmas day.
Ingredients depends on how many you are cooking for. I was catering for 8 so large piece of beef was required.
1 X fillet of beef (lean)

Large onion

1 X packet chestnut mushrooms

2 X garlic cloves

2 X packets puff pastry

1 X egg beaten

Worcester sauce

First, heat oven to 180c fan

Peel and finely chop onion and sauté until soft and translucent in a little butter.

When nearly cooked, add minced garlic and finely chopped mushrooms. Cook for about 5/8 mins but do not burn add a couple dashes Worcester sauce then decant into sieve placed over a bowl and allow to drain and cool.

Allow beef fillet to stand at room temperature for at least 20 mins before cooking. Heat heavy based frying pan until smoking hot and then sear beef on all sides for a few minutes until it Browns all over. Season with salt and pepper then remove and allow to cool.

Prepare baking tin by greasing all over.

Lay out pastry and if using two sheets glue together with beaten egg wash. Also apply egg wash to perimeter of pastry so that it sticks together when sealing up.

Spoon cold mushroom mix into centre of pastry and flatten out. When beef is cool place on top of mushroom mixture

Gently roll up pastry to fully cover beef like a parcel.

Next, turn over and place onto baking sheet.

Brush pastry all over with beaten egg wash

Bake in oven for 20/30 mins depending on how rare you like your beef. Pastry should be golden and baked.

Lastly, remove from tin onto warmed serving dish and serve with accompanied veg. I used boulangerie potatoes and spiced cabbage and gravy.
Enjoy!
Fee x