Baked vegetables accompanied by lamb steaks marinaded in greek yoghurt.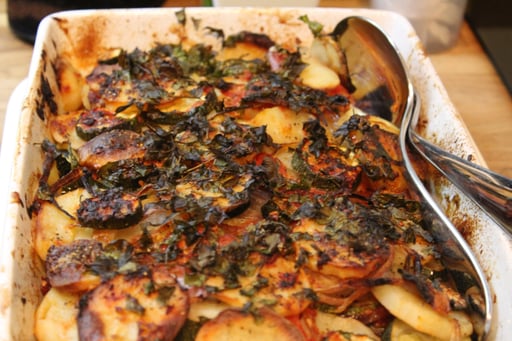 Ingredients : Vegetable Bake.
1 x kg small potatoes.

4 x large courgettes

4 x small red onions

6 x medium tomatoes

125 mls olive oil

2 x tblspns chopped fresh parsley

lots of ground black pepper and sea salt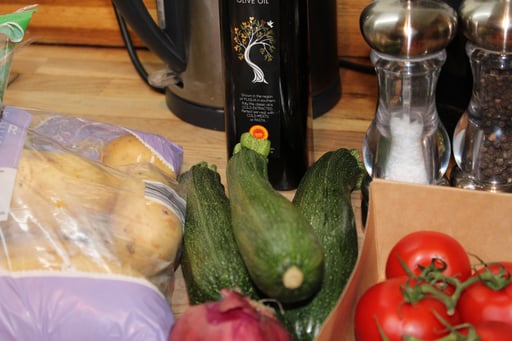 Pre heat your oven to 180c fan / 200c.
Wash and check your potatoes for any damage, cut any large ones in half and place in boiling saucepan of salted water for around 8 mins. you don't want them cooked through just slightly softened. you don't need to do this but I find that it cooked the potatoes more evenly with the rest of the veg when in the oven. Drain.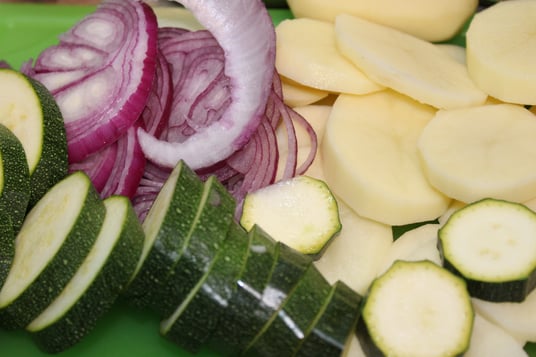 Slice all the veg including the blanched potatoes.
Using as large a roasting tin as you have, you don't want to layer the veg too deep, place all the sliced veg into tin and mix through.
Puree the tomatoes. I find the easy way to do this, apart from using a blender, is to cut tomatoes in half horizontally and use the rough side of a grater. This method will give you great tomato flesh and leave you with the skin which you can discard. Pour the puree over the top of the mixed veg.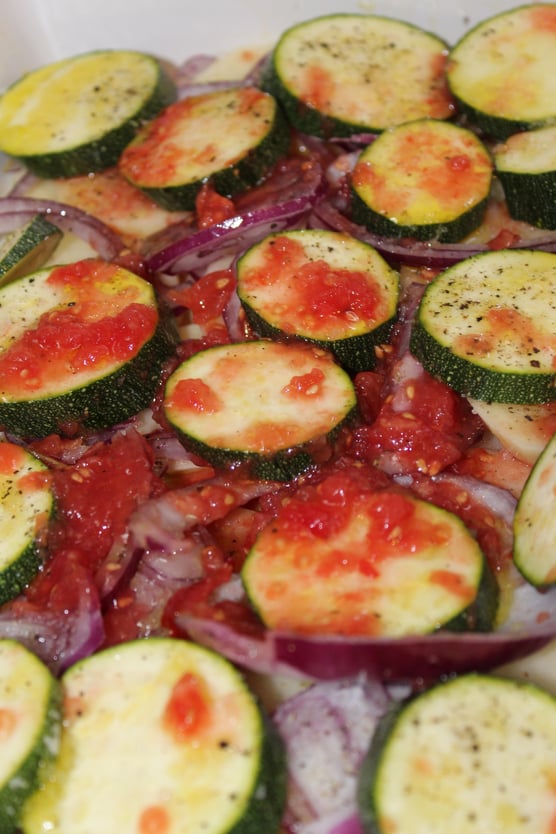 Then pour over the Olive Oil, add the salt and freshly ground black pepper and then finally sprinkle over some freshly chopped parsley.
Toss all the veg together to ensure they are evenly coated.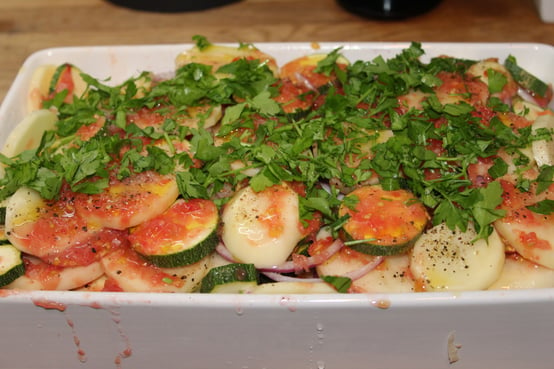 Bake in oven for around 90 minutes or until veg is tender and soft. I would check after and hour and if its drying out too much add just a little of boiling water, also check your seasoning, adding more if required.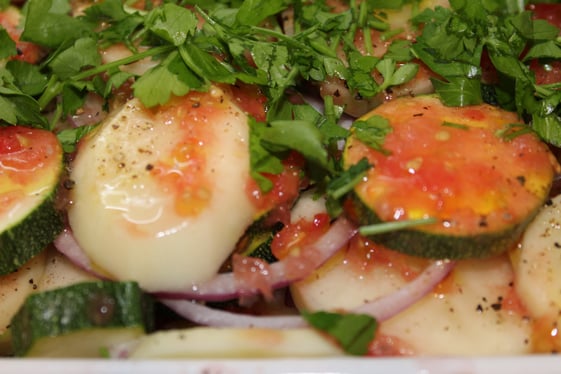 When ready remove from oven and let cool slightly as can be mouth-burning hot!
Serve alongside your greek marinaded lamb steaks.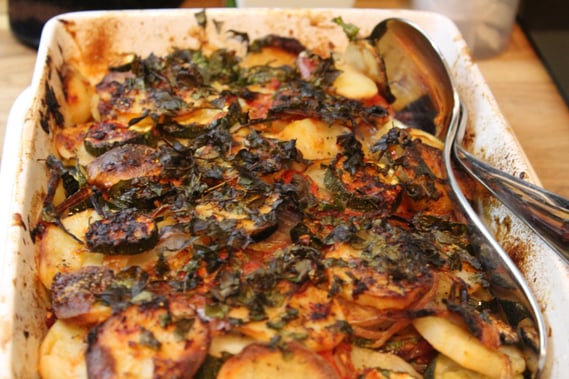 Greek Yoghurt Lamb Steaks: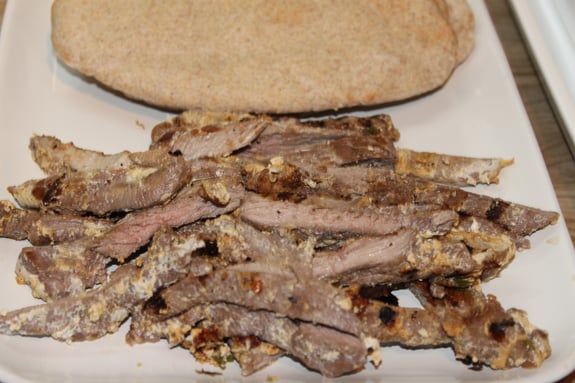 Ingredients:
4 x Lamb Steaks

200 mls Greek Yoghurt

2 x garlic cloves

zest and juice 2 x lemons

a few sprigs fresh thyme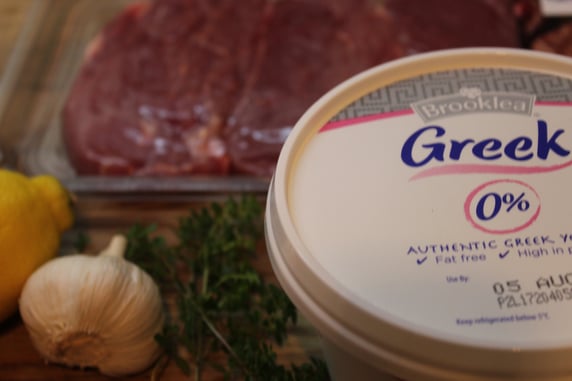 In a large shallow dish, mix the juice and zest of the lemons with the thyme leaves and minced garlic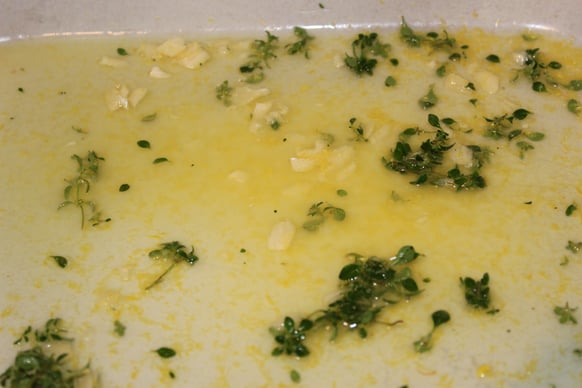 Add the Lamb steaks, turning over and over to coat and leave them covered to marinate for at least 15 mins.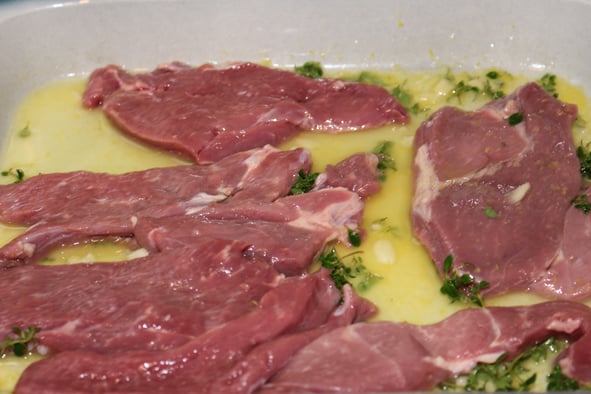 Empty the yoghurt into another shallow dish and season well, remove the lamb steaks from the marinade and dip into the yoghurt, coating each piece well.
Cook on a grill or even BBQ if you want, until the lamb is cooked the way you like. Anything from 5 to 15 mins depending on your taste and the thickness of the steaks.
I like to slice mine in thin strips and serve with Pitta breads and the Vegetable Briam.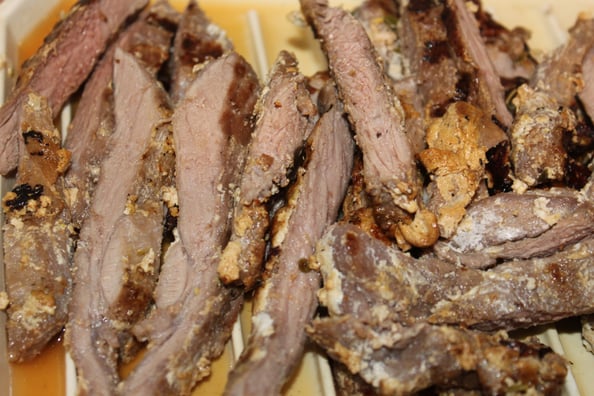 A very tasty meal and a good one for those who are not too partial to lamb as the marinade and yoghurt give a different flavour to the meat.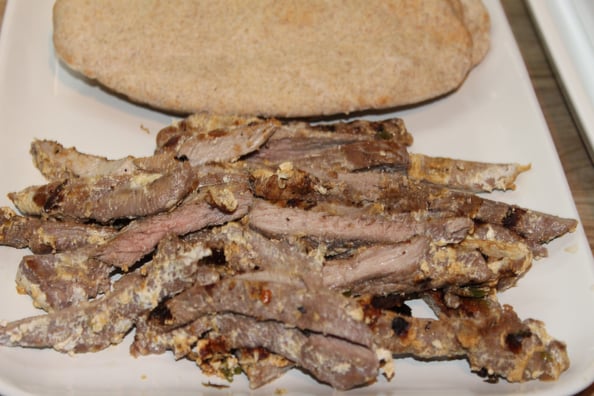 Enjoy!
Fee x