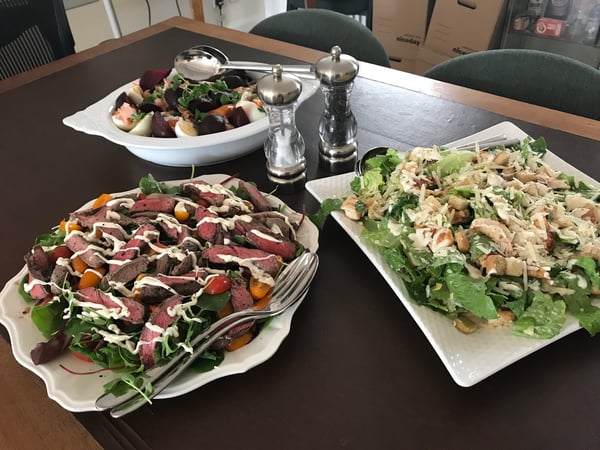 Bored with BBQs already? Weekend fast approaching and don't want to be stuck inside cooking? Weather forecast looking good and friends are arriving for lunch or supper? Then take a look at these 3 simple, easy to make salad platters - one beef, one chicken and one fish!
Rare Roast Beef with garlic Mayo on a bed of green Salad leaves with yellow/red baby plum tomatoes.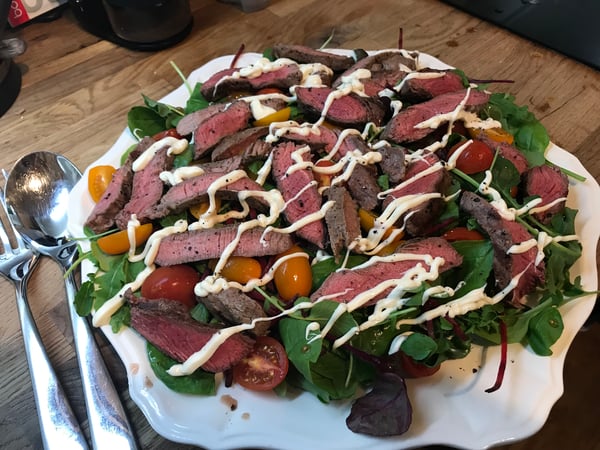 Belhaven Roasted Smoked Salmon with Jersey Royal Potatoes, thinly sliced Red Onions, Capers and chopped Parsley in a Lemon Creme Fraiche dressing garnished with boiled eggs and beetroot.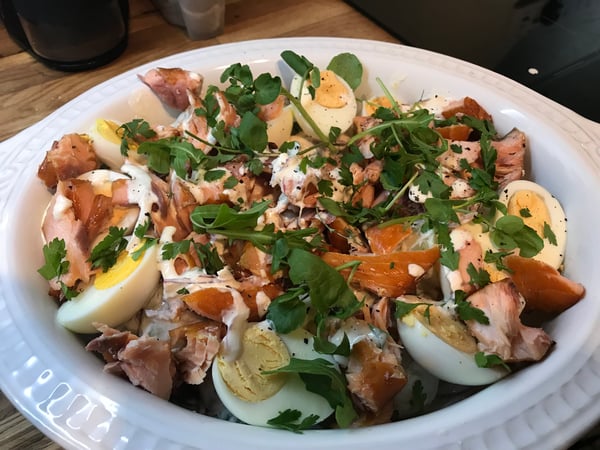 Chicken Fillet Caesar Salad with Croutons, Bacon Bits and Avocado.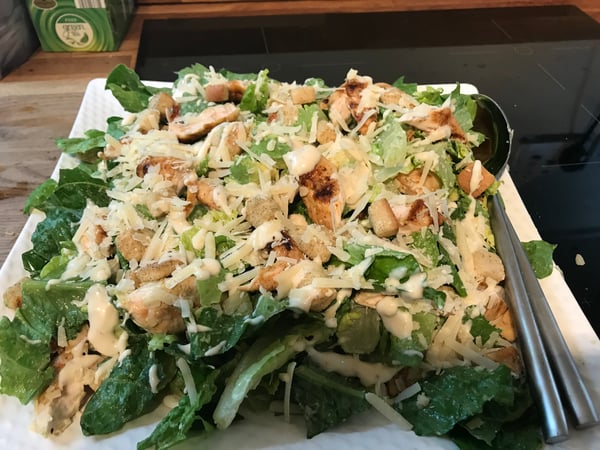 With only a short preparation time, these will leave you free to socialise with your guests and enjoy the sun, yet, still produce amazing looking, full of flavour dishes to feed their hungry appetites.
Each Salad Ingredients Serves 6 people:
BEEF
3 x Fillet Steak

1 x packet Watercress

1 x packet Spinach leaves

1 x packet Rocket leaves

1 x tub yellow/red baby plum Tomatoes

1 x Hellmans Garlic Mayo
Firstly, grill steaks to your own liking -I used a George Foreman grill and wanted rare to medium, so took about 4 mins on grill. Remove and leave to rest and cool .
Remove all green leaves from packets and check over for any 'yucky' ones and discard. Mix them all together and arrange on serving platter. Cut little tomatoes in half lengthwise and scatter over salad leaves. You can also add some quartered Radishes at this stage which gives the salad a crunch but I knew I was feeding someone who didn't like them so didn't use any.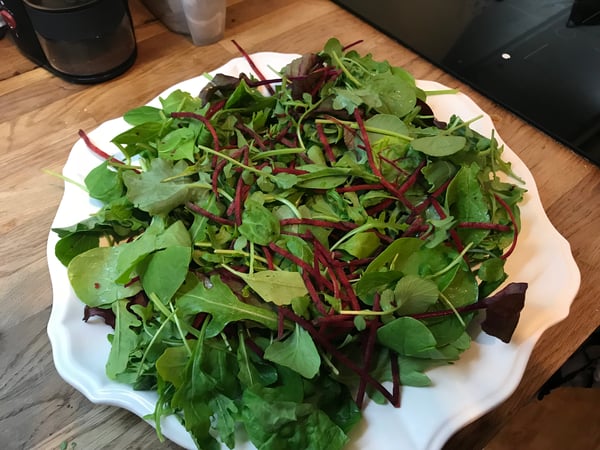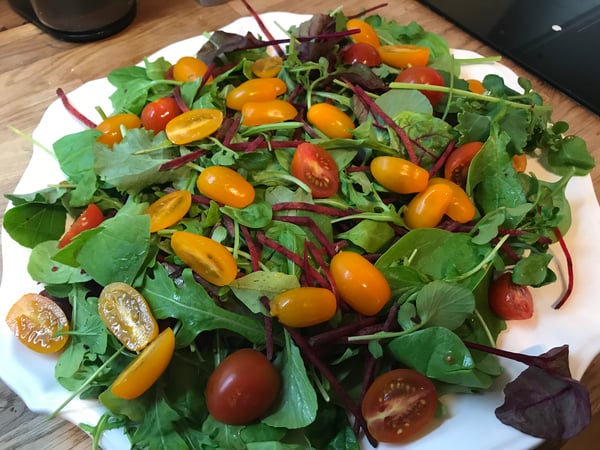 By now your steak should have cooled down and be ready to thinly slice. If its still warm then wait before you slice and add to leaves unless you are serving it immediately. You don't want the salad to wilt and the meat to 'bleed' over it.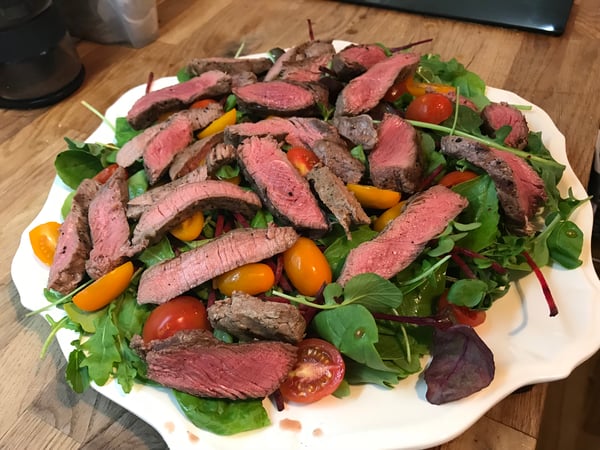 Scatter the sliced beef randomly over salad, then drizzle garlic mayo over the top!
Serve with an additional little bowl of garlic Mayo for those who want more.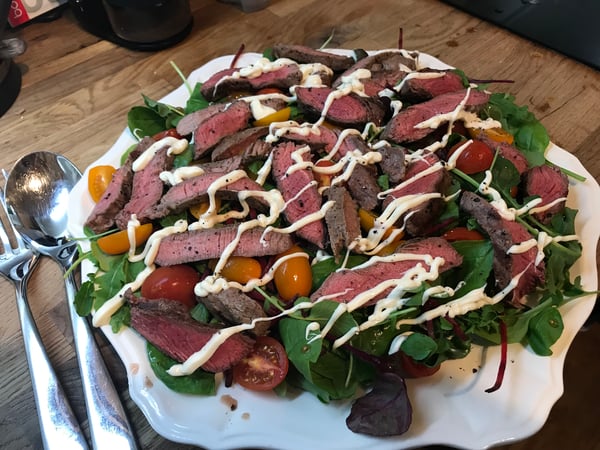 CHICKEN
2 x packets chicken fillets.

2 x ripe avocaods

3 x romain/cobb lettuce

Garlic Croutons

1 x pre cooked crispy bacon rashers

Caesar salad dressing

Grated fresh good quality Parmesan cheese
For this recipe, to save time and effort, I used shop bought Croutons, Bacon Bits and Dressing. You can easily make your own, its not difficult to cut up Sourdough bread, toss in garlic olive oil and bake in oven until crunchy or grill off some streaky bacon rashers and snip into bits. Also the dressing is just a matter of crushed garlic,Dijon mustard, vinegar, mayo, anchovy paste, lemon juice and olive oil all mixed together but I have to say Cardinis shop bought is hard to beat and actually cheaper than buying all individual components. Up to you really!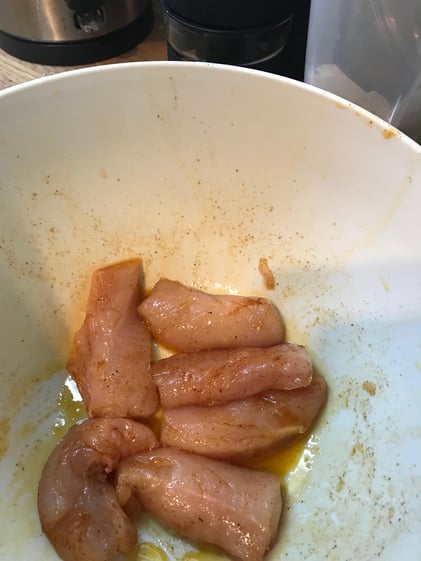 Firstly trim chicken fillets and toss in large bowl together with some olive oil and seasoning. Make sure every fillet is coated then grill until cooked, about 5 minutes on the Foreman grill, leave to cool.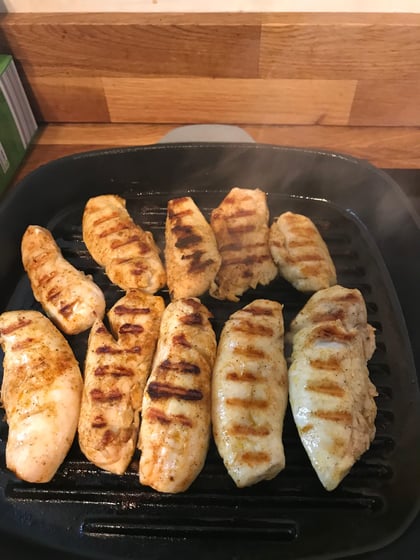 Peel the Avocados and chop into chunks then toss in lemon juice to prevent discolouring.
In a large bowl, tear up Cobb lettuce into bite size pieces as it makes it easier to eat with just a fork. Add the Avocado, some Bacon bits and a good handful of grated Parmesan cheese. Now drizzle in a couple tablespoons of dressing and mix through to cover all the lettuce. Arrange mixture onto your serving platter.
Break up the cold chicken fillets again into bite size pieces and scatter over the dressed lettuce, scatter over the remaining Bacon bits, the croutons and then drizzle over more dressing. Top with another handful of Parmesan cheese and serve.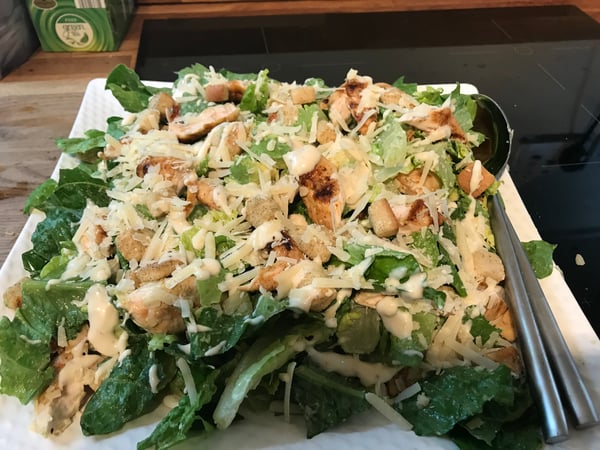 FISH
2 x packets Belhaven Roasted Smoked Salmon ( 2 fillets in each packet)

2 x bags Jersey Royal Potatoes

1 x large Red Onion

2 x bags mixed Salad leaves

1 x fresh cooked Beetroot quartered

3 x firmish boiled eggs

1 x small tub Yester Farm light Creme Fraiche (any brand will do)

2 x organic unwaxed lemons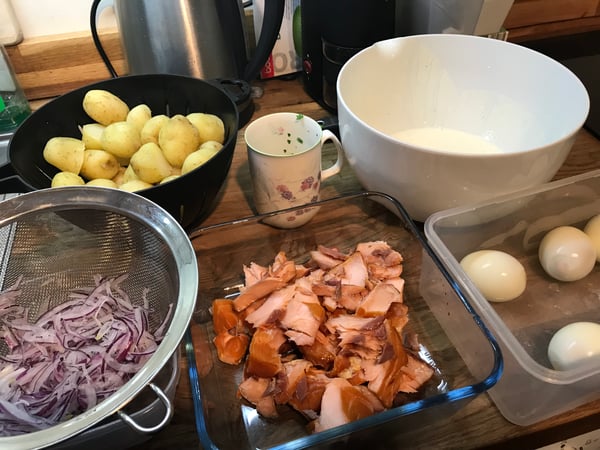 Scrub over Jersey Royals and boil till cooked,(10 mins) drain and let cool.
Very thinly slice Red Onion and put in a bowl of cold water for at least ten minutes. This will reduce the strong harsh onion taste on your mouth, makes the raw onion much more palatable.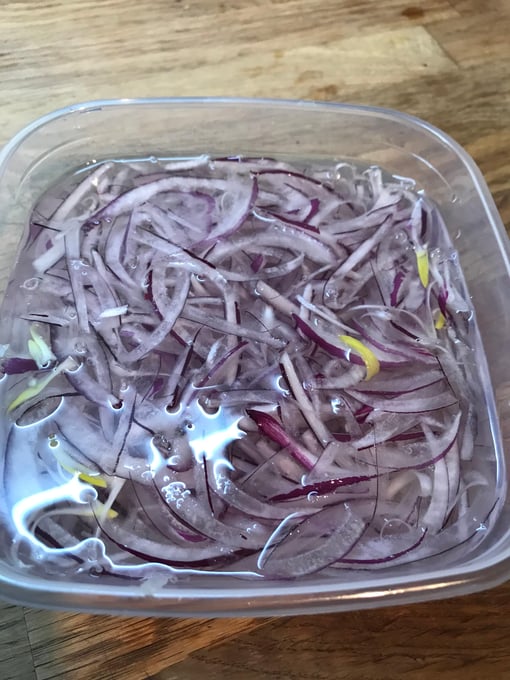 Remove Fish from packaging and carefully peel off skin and discard. Flake into bite size chunks. You can use any smoked fish for this but I do find that using Belhaven Roasted Smoked Salmon gives great flavour.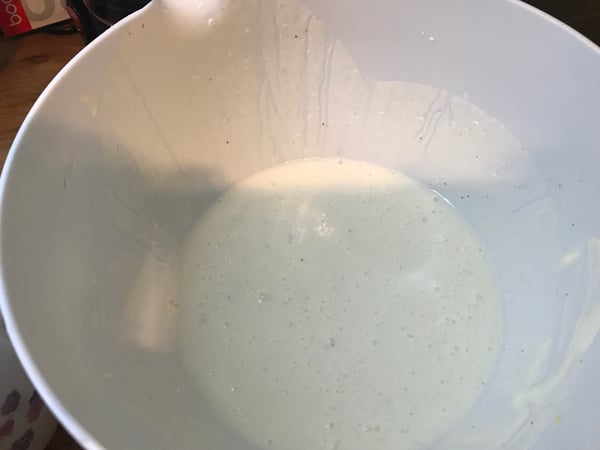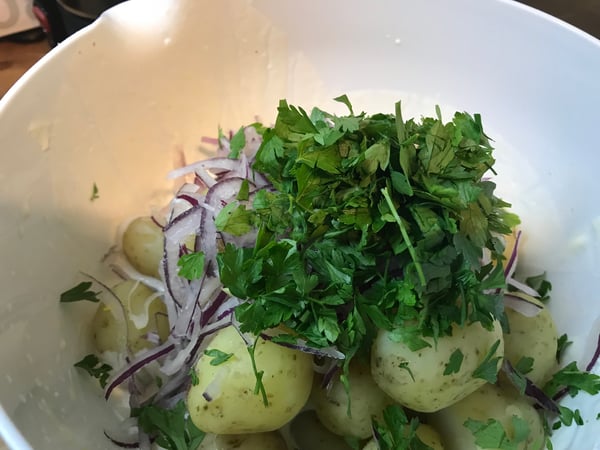 Empty all Creme Fraiche into large bowl, add the zest of 1 lemon and the juice of 2, mix together thoroughly. Add the by now cold potatoes, cutting any large ones in half, drain and add the capers, a handful of roughly chopped fresh Parsley leaves and the strained red onion slices. Make sure all ingredients are well coated and then tip mixture into your serving dish and spread out.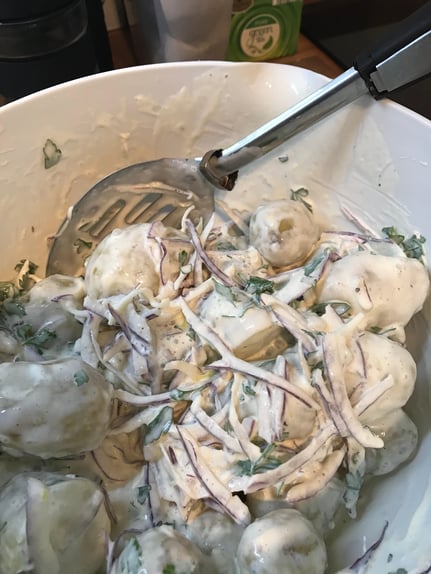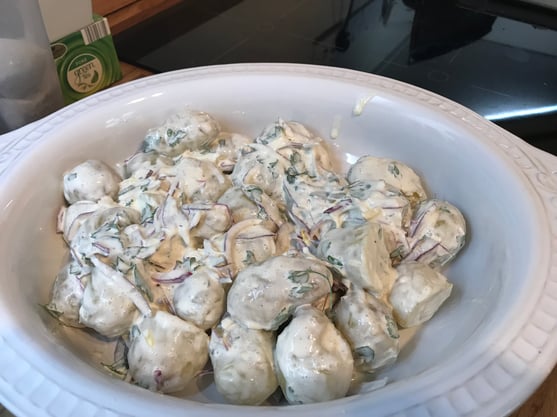 Scatter the flaked fish all over, half the boiled eggs and place around edges, along with the quartered beetroot then garnish with a few micro herbs if you can get them or just a few green salad leaves, and your ready to go.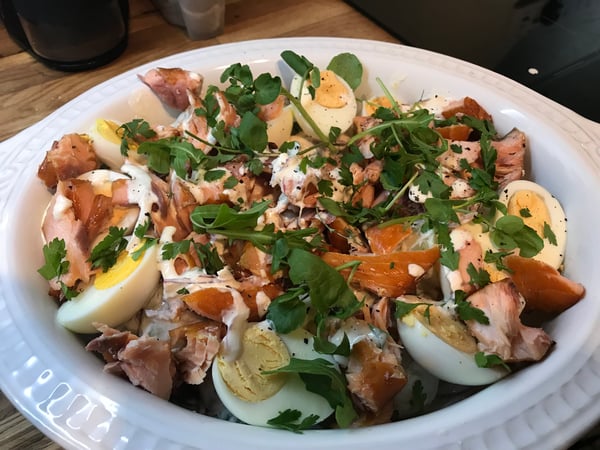 Thats it, 3 delicious, great looking dishes for the weekend with little effort !
And just to finish.....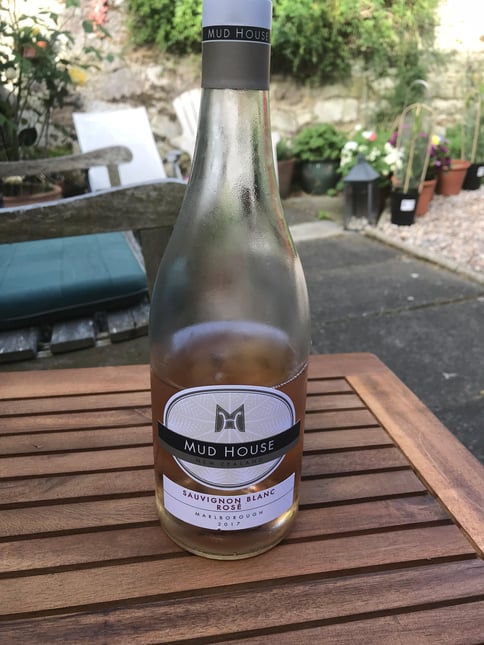 A cheeky little Rose which is best served chilled but I warn you one bottle won't last long! Have a good one folks.
Fee x