Saw this last week on Nigella TV show and thought, ooooh that looks good! So here is my version, easy to make and I promise you won't regret it, so decadent, lush, rich and smooth! Described by my "tasters" as intense, divine and you can make that again anytime, deffo a winner!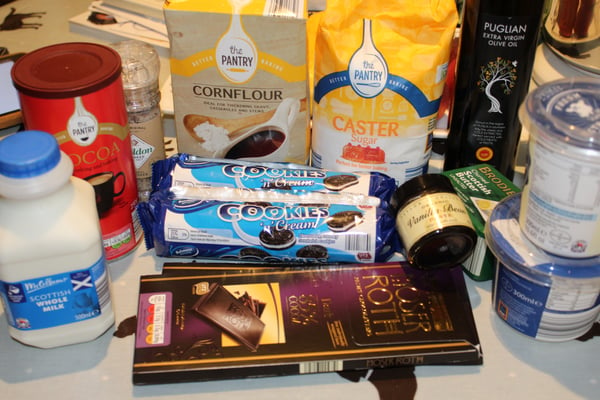 Ingredients:
The Base
2 x packets Oreo cookies (about 28 cookies)

50 gms Dark Chocolate (min 70% )

50 gms unsalted butter

1/2 tsp smoked sea salt flakes (or just sea salt )

The Filling

100 gms dark chocolate (min 70%)

25 gms cornflour

60 mls whole milk

500 mls double cream

50 gms cocoa powder (sieved)

2 x tsp espresso coffee powder or strong instant

75 gms caster sugar

1 x tsp vanilla bean paste or extract

2 x tsp extra virgin olive oil

3/4 tsp smoked sea salt or plain sea salt

You will need a loose bottomed 10 inch deep side flan tin.
Empty the biscuits into a food processor, along with the dark chocolate, broken into pieces and blitz until you have crumbs.
Then, add the butter and salt and blitz again until the crumbs start to clump together. Empty contents into flan tin and level out with your hand or the back of a wooden spoon, press mixture down onto base and also slightly up sides. Pop into fridge to chill and harden up for about an hour.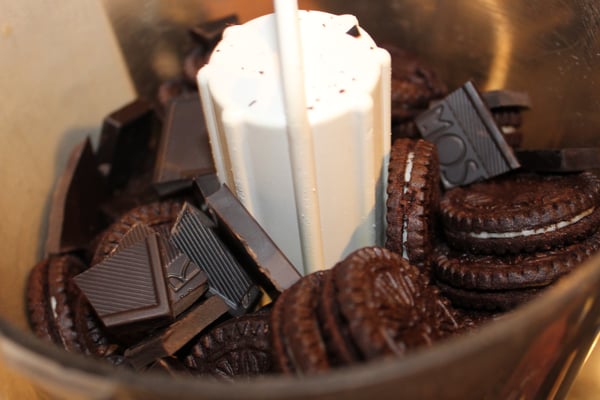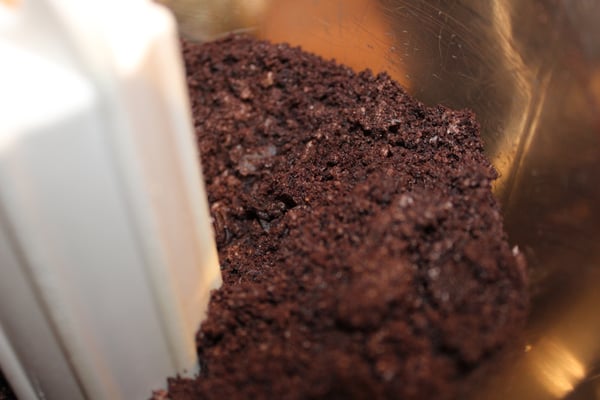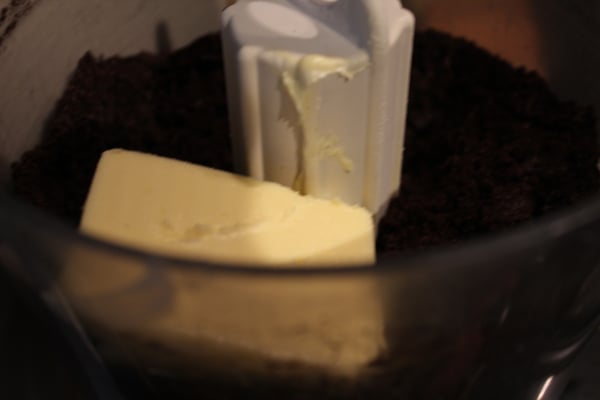 Now make the filling. Take the chocolate and as finely as you can chop into small pieces.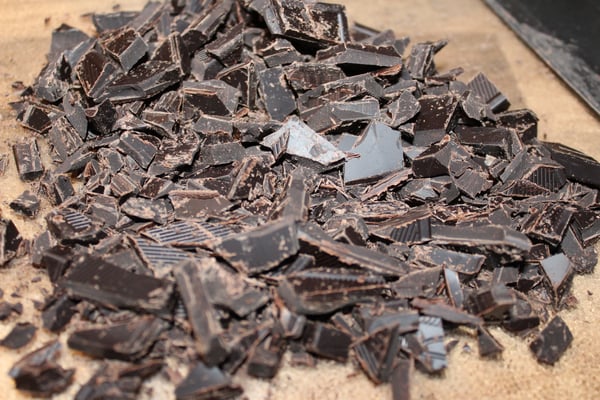 Next put the cornflour into a cup and add the milk, whisk until its smooth with no lumps.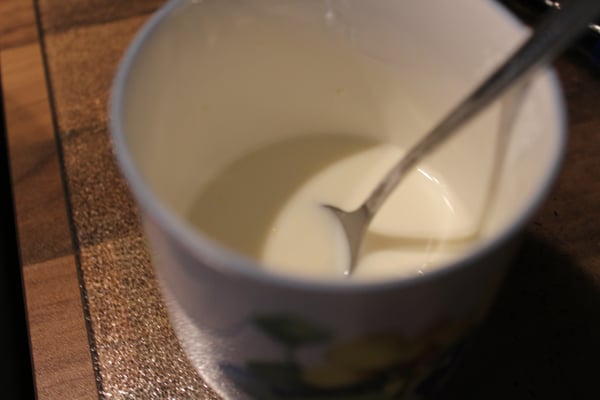 In a large saucepan, pour in the cream and add the chopped chocolate pieces, the sieved cocoa powder, coffee powder, sugar, vanilla paste, olive oil and salt.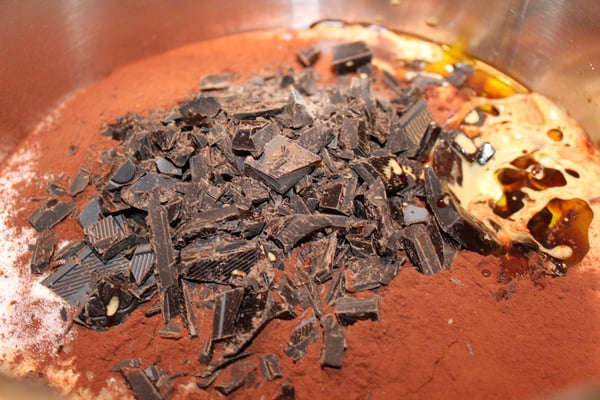 Heat gently, stirring all the time until everything has melted and combined and there are no lumps. When it all looks smooth and rich, remove from heat and add the cornflour mixture, whisking it in quickly.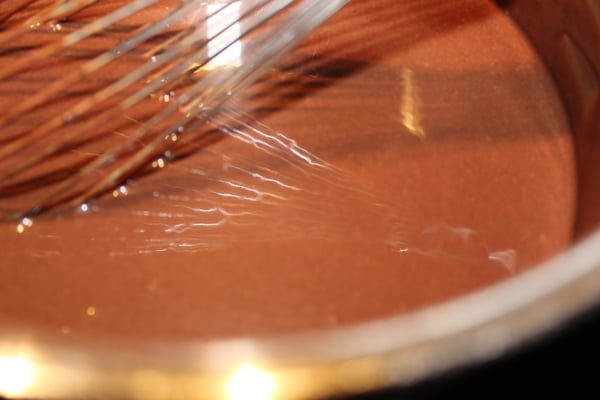 Put the pan back on the heat, use a wooden spoon and stir continually until mixture starts to thicken but do not let it boil. This can take about ten minutes, you can tell its ready when mixture coats back of wooden spoon and you can run your finger down back of spoon and the line created remains.
Pour mixture into a measuring jug, you should have about 600 mls. Cover top with a wet crumpled piece of greaseproof paper, to prevent skin forming and place in fridge to cool, about 10/15 mins.
Remove flan tin with base and jug of filling from fridge and pour chocolate cream into base, scrape jug to get every last drop, then level out with palette knife for smooth top. Place back in refrigerator overnight. I wouldn't leave it any longer than 24 hours before consuming as base can start to get crumbly.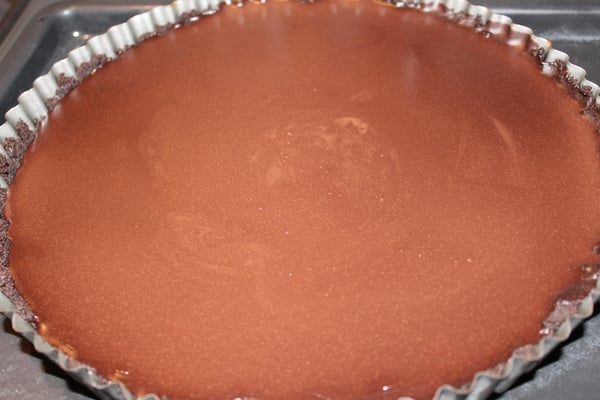 Remove from fridge about 10 mins before serving and unfold from flan case carefully, so not to crease top or crumble base. I find it easier to place flan tin onto of upturned glass and let the outside ring of flan tin fall away. In this case I personally left flan base on for support and just transferred to serving plate.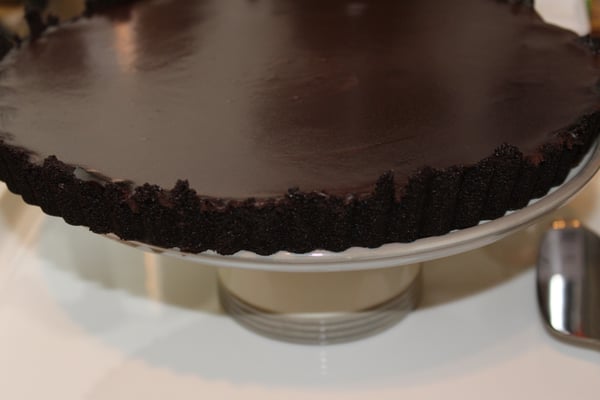 This is very rich and sweet so I would serve modest slices, they can always have seconds. Serve on its own or with creme fraiche, double cream or vanilla ice cream, whatever is your favourite. Refrigerate any leftovers ( haha - if you're lucky )
Enjoy!
Fee x