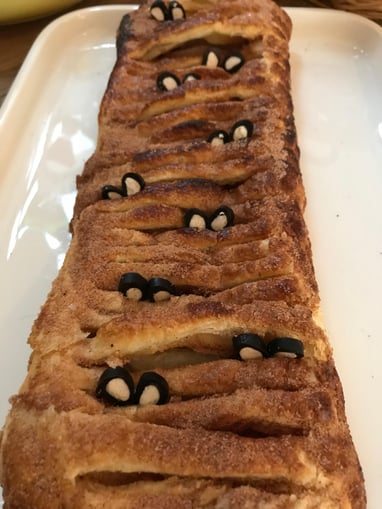 This is a really easy to do Apple pie for halloween supper. The kids could help its that easy and a sure winner with them. Also uses up some more of those abundant windfall autumn apples.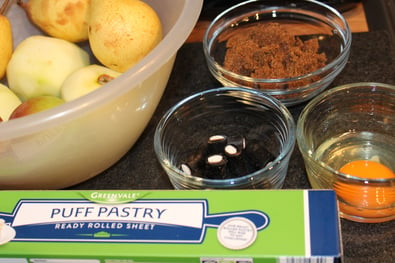 Ingredients:
4 x large Apples

2 x ripe pears (optional)

1 x packet ready roll puff pastry

1 x egg (beaten)

2 x tblspn sugar (any kind I used soft dark brown for flavour)

handfull liquorice all sort sweeties (liquorice with white fondant centre)

1 tsp ground cinammon

2 tsp golden castor sugar
Firstly, pre heat oven to 200c fan and put in large flat baking sheet to heat up.
Next, peel, core and thinly slice apples and put into large mixing bowl along with soft dark brown sugar and mix well.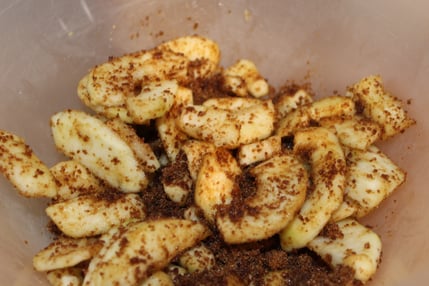 Carefully peel, core and cut pears into quarters, if using. I just happened to have some in fruit bowl that needed using up. You don't need to use any if you don't want to. Of course you can also add any other types of fruit, up to you. Adding sultanas is another option or even plumbs.
Now carefully remove pastry from packet and lay out flat onto large sheet baking parchment.
Score pastry about half inch from edge, all the way round but be careful not to cut through pastry. Brush the margin with beaten egg. Starting with the apples, place them all down half the centre of the pastry, then repeat with the pears. Check your fruit filling and pile in some more without cramming full as too much fruit will leak juice and prevent pastry from sticking to itself.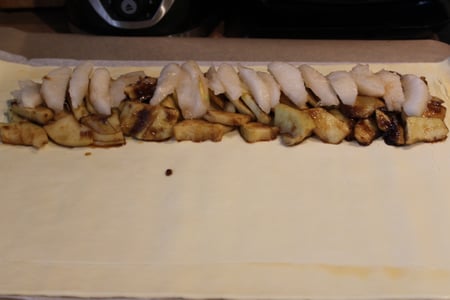 When your happy with the filling, carefully pull up sides all the way around and lightly brush with beaten egg again to act as glue for pastry.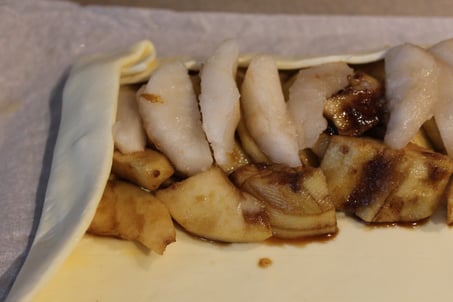 Then take the remaining wide end and flip it over fruit filling, ensuring its stuck to pastry flap. Tuck in ends so you now have a parcel of fruit, so to speak.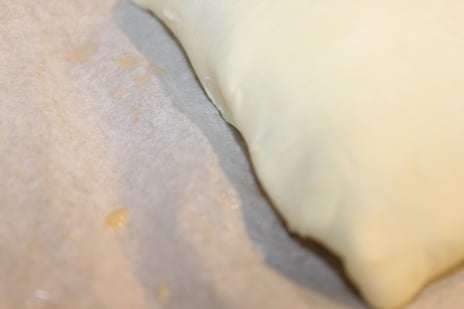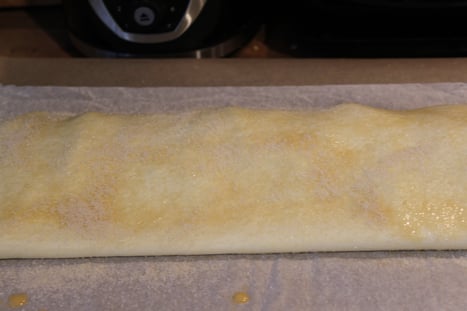 Brush over the top with beaten egg and liberally sprinkle over some golden castor sugar.
Next take a very sharp knife and various thickness of slits down centre of your parcel. Make sure your slit is open but not gaping.
Do this all the way down.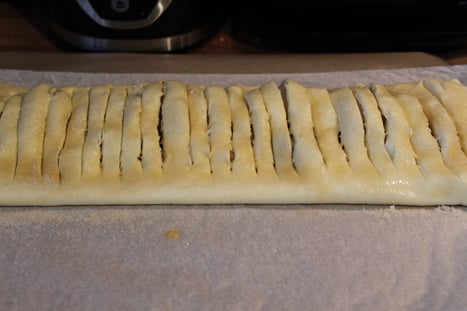 Leaving pastry on the baking parchment, remove the hot baking tray from oven and slide the pastry onto the hot tray.
Bake in oven at 200c fan for about 20 mins or until pastry is cooked through and golden brown in colour.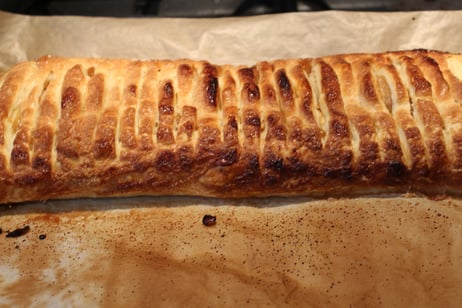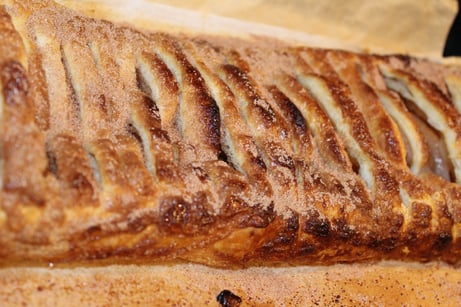 Remove and allow to cool. If necessary take your sharp knife and re score the slits too make sure they are open enough to take your spooky eyes.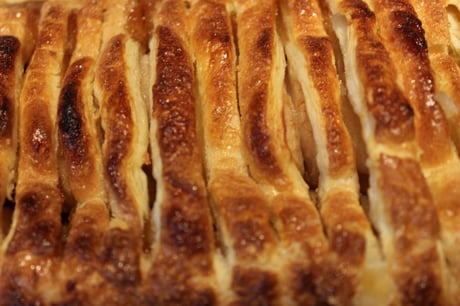 Whilst your waiting for it to cool, prepare your spooky eyes and sandy dusting.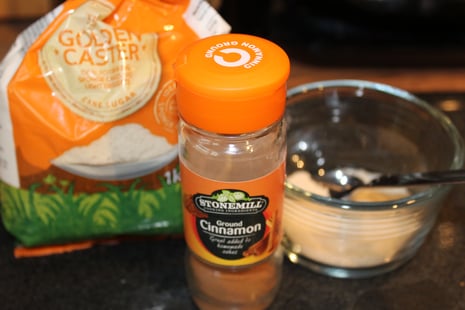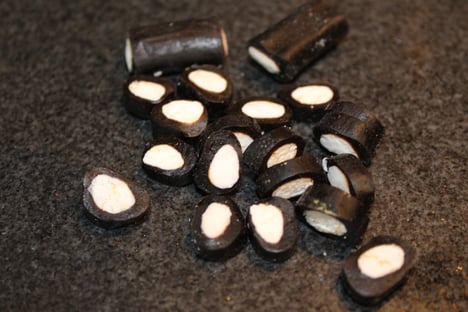 Cut the liquorice tubes into thin slices.
Mix a teaspoon of ground cinnamon with 2 teaspoons golden castor sugar in a bowl.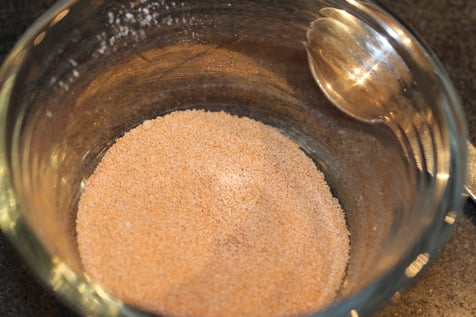 When the pastry is cool, take a couple of slices of liquorice and push them into a few open slits to resemble eyes peering out of pastry. Sprinkle pastry all over with the cinnamon sugar mixture to create a sandy dusty effect.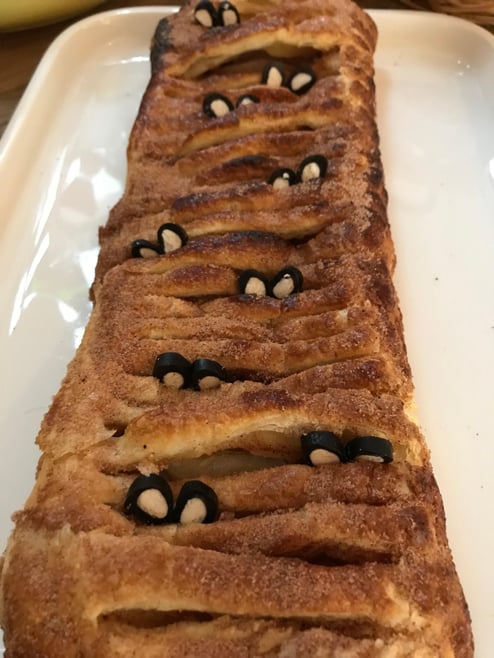 There you have a tasty Spooky Eye Halloween Pastry Mummy!
Serve on its own or with red jammy 'blood' custard or pistachio' green slime' ice cream. Guaranteed a winner with the kids.
Happy Halloween Spooks!
Fee x