Delicious, tasty and easy to prepare vegetarian thai red curry. Packed full of fresh veg and a hint of spice!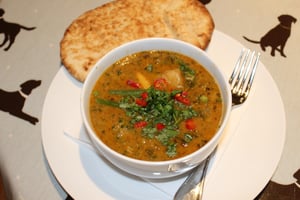 Ingredients: Feeds 4 people
1 X large white onion
1 large piece root ginger
3 X tblsp Thai red curry paste
2 X tsp chilli paste
2 X cans coconut milk
4 X tblsp soy sauce
1 X tsp rice wine vinegar
1 X large head broccoli
Bag baby potatoes
Packet fresh green beans
Packet baby sweetcorn
Bag fresh spinach
Small red chilli
Fresh coriander
Nan breads
Finely chop onion and sauté in a few large splotches olive oil in a large pan. When soft and translucent add grated ginger and cook for 5 mins stirring continually to avoid sticking.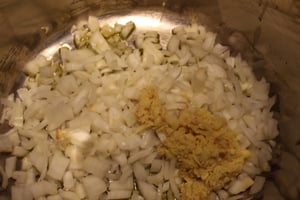 Then add red curry paste, chilli paste and coconut milk, bring to a simmer for five mins, then add soy sauce.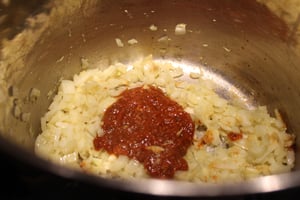 This is your basic Thai broth. You can then add veg and or meat to suit your tastes.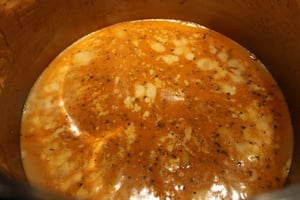 I pre boiled the potatoes for ten minutes until just tender, before straining and adding to sauce. Simmer sauce gently (careful not to split coconut milk) along with your added veg until veg is cooked. Just before serving add rice wine vinegar and spinach until it's wilted out.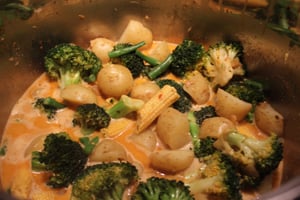 Serve in bowls and garnish with finely chopped red chilli and coriander along with a nan bread to soak up the sauce.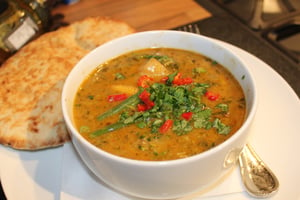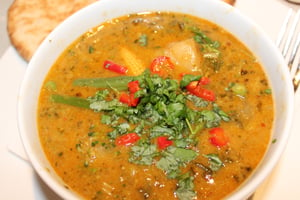 Very tasty. Makes a great supper for a group of friends!
Enjoy!